Philadelphia cops held a rally of their own Thursday night in response to a protest last week by local Black Lives Matter activists outside the home of a cop identified in a fatal civilian shooting.
The rally was held at the Fraternal Order of Police Lodge 5 headquarters and featured several speakers. Emotions quickly escalated and FOP President John McNesby made one jarring statement.
"When you go to work each day, you shouldn't have to worry that a pack of rabid animals will suddenly show up at your home and openly threaten your family," he told the gathered crowd of a couple hundred people, according to WHYY.
That "pack" he referred to is the dozen or so activists who protested last Thursday outside the Northeast Philadelphia house of Officer Ryan Pownall. He has been identified by the police department as the officer who shot David Jones in the back as Jones ran from a confrontation with Pownall in June.
McNesby went on to describe the protesters as "racist hate groups determined to instigate violence."
A local leader of the Black Lives Matter movement said Friday that McNesby's comments are ridiculous.
"We're not going to dignify that with an answer," activist Asa Khalif said. "That ridiculous comment doesn't deserve a response. I'll simply say, 'Justice for David Jones.'"
Local
Breaking news and the stories that matter to your neighborhood.
The Black Lives Matter demonstration last week occurred on Bridle Road in the city's Bustleton section for about an hour.
Shouting "If we don't get no justice, they don't get no peace," the group demanded Pownall be charged with murder.
Pownall, a 12-year veteran of the police department, shot the 30-year-old in the back and buttocks on June 8 following a struggle. The officer stopped Jones for riding an illegal dirt bike in North Philadelphia.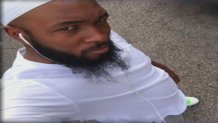 During a pat down, Pownall felt a gun in Jones' waistband, police said.
A witness in back of Pownall's police vehicle watched Pownall pull his service weapon and warn Jones not to touch the gun, police said. The two men scuffled before Jones allegedly grabbed his handgun, according to police.
Jones then fled. Surveillance video obtained by NBC10 appears to show Jones running away when he was shot.
The same witness later told NBC10 that Jones had dropped the gun before running. A fully loaded .9mm handgun was recovered at the scene.
Jones died at Temple University Hospital.
The shooting remains under investigation by both police and the Pennsylvania attorney general's office. Police Commissioner Richard Ross said the department is looking into whether protocol was followed.
Pownall remains on administrative leave.
Black Lives Matter, along with others, have been protesting the shooting for weeks. In July, the group marched on the Police Administration Building and City Hall demanding a larger investigation.
Pownall was called a "racist, bigot pig cop" and Khalif said he has "a murderous spirit" — referring to another shooting that the officer was involved. That 2010 shooting left Carnell Williams-Carney paralyzed when a bullet hit him in the back. The shooting was ruled justified and Williams-Carney lost a federal lawsuit against police.
McNesby's speech about Black Lives Matter followed a personal attack on Khalif last week, when he called Khalif a "punk" who shoud've been arrested for protesting without a permit.
"I can't use the words I want," McNesby said Friday. "To take it to someone's house, a police officer's house, he doesn't have any respect."
"He's a two-bit punk who doesn't have the respect of decent protesters, if there is any in this city."
Pa. Rep. Martina White (R - Pa. 170) also spoke at the FOP rally. White has twice proposed legislation that would bar police departments in Pennsylvania from releasing an officer's name shortly after a shooting.
Philadelphia Police Department policy directs the release of officers' identities within 72 hours of a police-involved shooting if there is no credible threat against the officer. The policy falls in line with U.S. Department of Justice guidelines.
White has sponsored House Bill 27, which would limit the release of officers' names to 30 days or until the investigation is completed — whichever is sooner.
Khalif said McNesby and others not happy with protests like the Bustleton action should get used to it.
"We have something in the tank," Khalif said of another demonstration soon. "There is nothing off the table, including coming back to the police officer's home."
He said that despite what McNesby and others say, his group had not advocated violence, though he did say his group may often sound forceful.
"The language is strong because the emotion is strong," Khalif said. "But we never advocated violence."