The driver of a minivan shot to death by a Philadelphia police officer early Wednesday morning was identified as Richard Ferretti from a northeast Pennsylvania town.
Ferretti, 52, of Andreas, which is about 15 miles north of Allentown, allegedly failed to listen to plainclothes officers as they stood in front of his minivan and yelled at him to stop as he drove on Overbrook Avenue near Lancaster Avenue.
"Police received several calls" from college students concerned about the man "casing the area," said Philadelphia Police Commissioner Richard Ross. "Police arrived and they saw the male doing just exactly what the callers indicated," said Ross. "They attempted to stop the male, initially he tries to flee."
Homicide detectives investigated the shooting. It was one of two police-involved shootings late Tuesday night into early Wednesday morning. Another man, allegedly armed with a gun, was shot in Southwest Philadelphia two hours earlier.
The incident that left Ferretti shot occurred shortly before 1 a.m. Crews rushed him to Penn Presbyterian Hospital but he was dead on arrival.
Plainclothes officers cut off the driver around the corner and told him to stop, said Ross.

"Apparently (the driver) attempts to flee from them, trapping one of the officers between the car and some other area where (the officer) didn't feel he could escape and he discharged his weapon," said Ross. "That male was struck, one time I think, and he was subsequently pronounced dead."
"I heard a screeching sound and I heard a loud boom," said witness Gregory McCowin. "So I got up and I heard 'freeze, stop!'"
Local
Breaking news and the stories that matter to your neighborhood.
"It's way too early" to determine if the shooting was justified, said Ross. An internal affairs investigation would determine the exact circumstances leading to the incident. [[378080781, C]]
The incident played out on police radio. "All cars standby... shots fired," said police band traffic around the time of the shooting.
"Do we have an offender hit?" asks one voice.
"It's all under control," can be heard a short time later as officers are told to resume with regular police work.
Investigators focused on the crashed minivan with its airbag deployed. Ross said officers didn't find a weapon in the vehicle.
About 90 minutes earlier, officers on patrol heard gunshots then found a man shooting into the air from the back porch of a home along Grays Avenue near Lindbergh Boulevard in Southwest Philadelphia and asked him to drop the weapon, said Philadelphia Police.
"Police are in the area in this case and they hear gunshots," said Ross.
"They approach the male, tell the male to drop the weapon, and that male aims and fires one shot at police, misses," said Philadelphia Police Lt. Ray Evers. "And then one of the officers fires two times back and shoots the man in the leg"
The man, later identified as 50-year-old Desmond Abernathy, then made his way inside the house where police arrested him and took him to Presbyterian Hospital in stable condition, investigators said. They also took another man who was inside the home, later identified as 47-year-old Curt Joseph, in for questioning.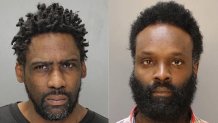 Police say they recovered a weapon and ballistic evidence at the scene.
Abernathy is charged with attempted criminal homicide, aggravated assault, simple assault, violation of the uniform firearms act and related offenses. Joseph is charged with hindering apprehension, violation of the uniform firearms act, tampering with evidence, obstructing justice and other related offenses.