A man armed with an AR-15 rifle who led police on a chase through two counties Wednesday evening and prompted a manhunt has been taken into custody in Northeast Philadelphia, police tell NBC10.

The man, later identified by Philadelphia police as William Opper of Trevose, Pennsylvania, was captured along Devereaux Avenue in the city's Mayfair neighborhood just before 8 p.m., police said. His arrest ended a more than two hour-long search that started near the city's northern border.
Philadelphia police began pursuing Opper around 5:45 p.m. following a report of gunshots in the woods.

Deputy Commissioner Joe Sullivan said the officer who responded confronted two men, one unarmed and the armed suspect. Both ran away, with the armed suspect refusing to drop the rifle, he said.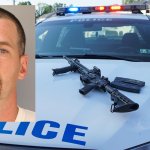 "There were multiple times when this officer would have been justified in using deadly force, but she elected to maintain her composure," Sullivan said.

The suspect then jumped into a white work pickup truck and sped northbound along the Roosevelt Boulevard and out of the city limits.

City police followed as he turned into an office park, the Neshaminy Interplex, and then into a housing development under construction in Trevose. It was there he steered the truck into a ditch before jumping out and running into a wooded area, police said.
The suspect dropped the rifle before running, police said. The loaded weapon was recovered, along with two full magazines, at the scene.
An Uzi submachine gun was also found in the truck's bed, police said.

Officers from Philadelphia and Bensalem flooded the area and called in an armored vehicle to assist in the search. But they were unable to nab him there.
He made his way to a home, believed to be owned by his sister, in Mayfair, police said.
Opper, 37, has yet to be charged with a crime, but officials expect that will happen Thursday.