What to Know
Philadelphia Police SWAT Cpl. James O'Connor was shot and killed while serving a homicide warrant at a Frankford home Friday morning.
O'Connor was a 23-year veteran of the police force. He is survived by his wife and two children, including a son who is a Philadelphia police officer.
Another officer returned fire, striking two people. Those people were listed in stable condition.
The city of Philadelphia is mourning a police SWAT officer who was shot and killed in the line of duty Friday morning.
SWAT officer Cpl. James O'Connor IV was part of a team serving a homicide warrant at a home on Bridge Street near Duffield Street in the Frankford neighborhood at 5:51 a.m. when someone opened fire through a closed door on the second floor, Police Commissioner Danielle Outlaw said. The veteran corporal was struck in the shoulder.
O'Connor was rushed to Temple University Hospital where he died at 6:09 a.m., Outlaw said. He was 46 years old.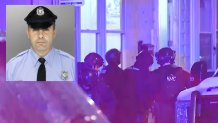 "It takes a special person to do this job and that's who this corporal was," Outlaw said.
O'Connor was a 23-year veteran of the police force who served his last 15 years on the SWAT team, Outlaw said. He was a married father of two. His son is currently a 9th District police officer and his daughter serves in the Air Force.
The official Twitter account of the police department shared condolences and called O'Connor's death a "senseless tragedy."
Another SWAT officer returned fire, striking two people in their lower extremities, Outlaw said. The two other people shot in the home were taken to Einstein Medical Center in stable condition.
The SWAT Team was looking to arrest Hassan Elliott, a suspect in a March 2019 robbery and murder that happened near the house where Friday's deadly gun battle took place, Philadelphia District Attorney Larry Krasner said. Elliott, 21, was not shot, police said.
"Elliott is currently in custody," Krasner said. "We expect to bring charges for the March 2019 murder and additional charges following today's incident shortly."
Krasner's spokeswoman, Jane Roh, said more than one person inside the house had a gun. More charges were expected Friday as investigators determine "which bullet came from which person," she said.
In the minutes after the shooting, a heavy police presence, including officers with long guns, could be seen standing outside a home in that block. The scene isn't far from SEPTA's Frankford Transportation Center.
Philadelphia police officers and leadership, including Commissioner Outlaw and Fraternal Order of Police President John McNesby, and Mayor Jim Kenney rushed to the hospital and gave their condolences.
An emotional Kenney praised the work of O'Connor and all Philly officers outside the hospital then released this prepared statement:
"I am grief-stricken to learn of the tragic death of Philadelphia Police Cpl. James O'Connor. Today, like every day, he demonstrated the ultimate form of heroism: putting out his uniform, leaving his family and carrying out his sworn duty to protect the residents of this city. I share my deepest condolences with those who knew and loved Corporal O'Connor. I ask all Philadelphians to keep his family, and all members of the Police Department, in your prayers at this difficult time."
Kenney ordered all city flags to be flown at half-staff for 30 days.
Police cars accompanied the hearse carrying O'Connor's body from the hospital as it left the hospital later Friday morning.
Funeral arrangements have yet to be announced.
"Cpl. O'Connor is a courageous hero who made the ultimate sacrifice while protecting and serving the citizens of Philadelphia," FOP State Lodge President Les Neri said in a Facebook statement. "His dedication and bravery will live on forever. Our heartfelt condolences go to Cpl. O'Connor's family and friends during this time."
Philadelphia City Council President Darrell Clarke and Pennsylvania Gov. Tom Wolf also offered condolences in statements.
Krasner promised to full prosecute everyone involved as his office revealed more about Elliott.
Elliott had been paroled in 2018 after serving about a year on a felony gun possession charge, court records show. He was later charged with violating probation.
In April 2019, a month after the deadly robbery, a bench warrant was issued. According to Roh, it took police some time to locate him before Friday's attempt to arrest him on the warrant.
A message left by the AP seeking comment from the Defender Association of Philadelphia, which represented him, was not immediately returned.