A Philadelphia Police officer is fighting for his life after he was shot during a violent struggle with a man inside a Feltonville mini mart. Philadelphia Police say the gun used to critically wound the officer was stolen.
The officer, identified as 41-year-old Edward Davies from the 25th District, was shot in the abdomen inside the Almonte Mini Mart at 4th and W. Annsbury Streets around 12:10 p.m. Tuesday, police said.
Davies, a married father of four and six-year veteran of the Philadelphia Police force, was rushed to Temple University Hospital where he underwent surgery. He is currently in a medically induced coma, according to police.
Local
Breaking news and the stories that matter to your neighborhood.
During a press conference Tuesday afternoon, Mayor Michael Nutter announced that Davies suffered "life threatening injuries" but that officials were "hopeful" he would survive. Sources close to the investigation say he suffered a punctured kidney, a severed artery and will need additional surgeries. He was moved to the intensive care unit following surgery.
Philadelphia Police Deputy Commissioner Richard Ross said the suspect, identified as 31-year-old Eric Torres, was stopped at 5th and Allegheny Streets before noon after a different officer noticed the car he was driving had a busted taillight.
After giving that officer his identification, Torres allegedly drove off at a high rate of speed and was able to evade that officer.
A short time later, a witness called 911 to say the suspect crashed his car along 2nd Street and could be seen running into the corner store at 4th and W. Annsbury Streets, Deputy Comm. Ross said.
Several police officers, including Davies, entered the store and got into a violent struggle with the suspect.
"The officers that we spoke to said it was a violent struggle that lasted at least a couple of minutes," Deputy Comm. Ross said.
During that struggle, police say Torres was able to fire his weapon, hitting Davies under his vest.
Philadelphia Mayor Michael Nutter said the gun used was a stolen .45 caliber glock.
"This was a gun that was reported stolen last year and now ends up in the hands, we don't know how, of a multiple-convicted person. . . clearly more than likely should never have a weapon and probably did not walk into a licensed store and purchase this weapon," Nutter said.
Sources close to the investigation say Torres stole the weapon from an officer in another township. They did not reveal the name of the township however.
Witnesses tell NBC10 they heard police yell "officer down" and later saw the suspect being pulled out of the corner store.
Reached by phone, an Almonte Mini Mart store employee, who did not want to give his name, said he could not answer any questions about what happened.
Deputy Comm. Ross said Torres is currently in custody and was not shot. His weapon was also recovered. He is charged with attempted murder, assault and other related offenses.
Torres has a long criminal record. He was arrested 12 times prior to Tuesday's incident, including five arrests for assault of police officers, officials said. His last release from prison was on November 28, 2011, according to court records.
Detectives executed a search warrant at Torres' home just a few blocks from the shooting site shortly before 6 p.m. Tuesday. Sources close to the investigation say police recovered a 9mm gun, ammo for the glock used in Tuesday's shooting and nearly $50,000 worth of heroin.
Philadelphia Police Commissioner Charles Ramsey said the department would be doing everything in its power to ensure Torres never hits the streets again.
"He should never see the light of day again, that's for sure," he said. "And we'll do everything in our power to see to it that he will never hurt anybody again. Ever. And whatever it takes to do that, we're gonna do it."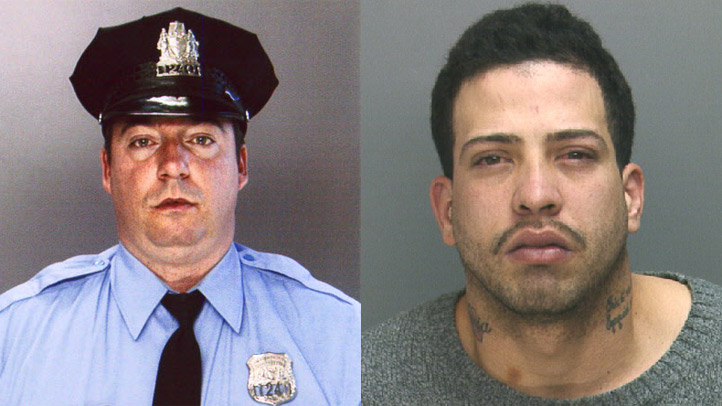 Philadelphia Police Officer Edward Davies (L) was shot in the stomach following a violent struggle with Eric Torres (R) inside a Feltonville corner store Tuesday afternoon, police say. Photo: Philadelphia Police