Lee la historia en español aquí.
Police in Burlington County are investigating after a man and his pet dog were found dead inside an Evesham Township apartment building Saturday morning.
Police were initially called to Olympus Apartments shortly before 9:15 a.m. for a report of a possible dog attack.
Upon arrival, authorities discovered a man and his pet dog named 'Django', dead in a stairwell landing inside the complex.
Investigators say the apartment where the victim was found had signs of a struggle.
Since the incident, investigators have arrested Donovan Hollingsworth, 25, with the murder of Thomas Pierson III, 26, in addition to two counts of possession of a weapon with unlawful purpose.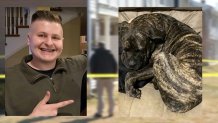 According to court documents, Pierson and Hollingsworth grew up together and got in an altercation over obtaining marijuana. Police say Hollingsworth then called his father and told him Pierson was hitting him in the head and that Pierson's dog was attacking him. Investigators say Hollingsworth then grabbed a knife and stabbed both Pierson and the dog before leaving.
Local
Breaking news and the stories that matter to your neighborhood.
Hollingsworth later left the scene and was taken into custody at the Emergency room inside Virtua Voorhees Hospital, where he was being treated following the minor injuries he suffered during the alleged altercation.
Hollingsworth appeared in court on Monday and will have a detention hearing later this week.
Former Evesham Mayor Randy Brown told NBC10 he got to know Pierson when he was in high school as he attended council meetings and volunteered for community events.
"Definitely had an interest in politics," Brown said. "In government. His pet project was solar. He was just fascinated by the sun and harnessing its energy."
Pierson even wrote a book in his early 20's called, "In New Jersey The Sun Works Great."
"He was very proud of the book he wrote. He gave me a copy of it and I scanned through it," Brown said. "It just shows what he was about as a person that he tried to get his message out in ways that he thought would better the community."