Police arrested a man who they say attacked a pregnant woman while armed with a knife at a Philadelphia SEPTA station.
David Dash, 26, of Philadelphia, is currently in police custody. He's charged with aggravated assault, simple assault and other related offenses.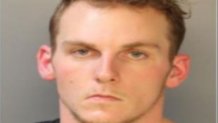 Dash allegedly approached a 20-year-old pregnant woman from behind at the Lombard-South Station on the Broad Street Line on Wednesday around 11:30 p.m. Police said he put a knife to her throat as she stood at a fare kiosk.
The woman managed to break free and Dash fled the scene. The woman was later treated for a laceration to the neck.