Two days after a dead man was found slumped over in a running car outside a strip mall, a young couple faces charges in the killing that authorities said was fueled by heroin.
Montgomery County District Attorney Kevin Steele announced murder charges Wednesday against 20-year-olds Austin Parkinson and Lana Lare. The motive was to steal heroin, authorities said.
Police said they found Chad Konata's Buick running with its headlights and wipers on Monday around 5:45 p.m. in the parking lot of the West Ridge Center on Ridge Pike and Lynda Drive in Plymouth Township. Inside the vehicle they discovered Konata, bloody and slumped over.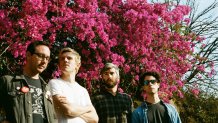 Parkinson and Lare arranged to buy heroin from Konata Monday night, Steele said. The West Norriton couple then stabbed him multiple times while in the sedan and stole eight bundles of heroin - fewer than 100 packets worth around $800 - before fleeing. Konata crashed his car into a parked car and died at the scene.
Detectives searched for evidence in the parking lot of the Outback Steakhouse across the street from the strip mall where the victim was found. Surveillance video shows two people come from the Outback lot and appear to get in a car.
"This murder today is another casualty of the far-reaching opioid epidemic we're facing here in Montgomery County," Steele said. "This man was murdered for about $800 worth of heroin."
Neighbors say they've seen an increase in crime recently in an otherwise quiet neighborhood.
Parkinson and Lare each remained jailed without bail Wednesday on first-degree murder and robbery charges. Parkinson is also accused of making false statements to investigators. Court records don't list attorneys who could comment on either suspects' behalf.