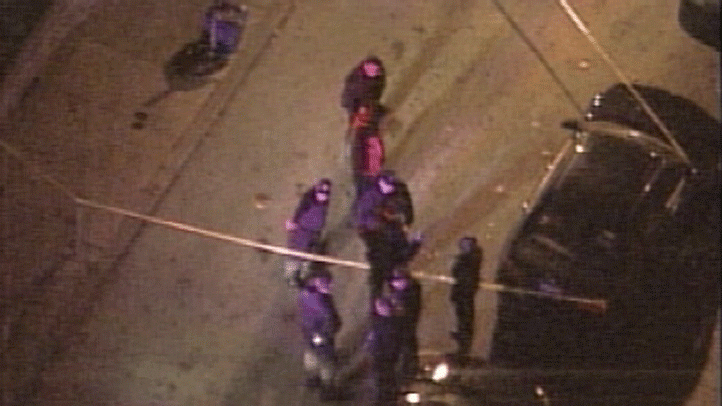 A jury has convicted two former Philadelphia police officers of reckless endangerment but deadlocked on other charges in an off-duty shooting of a teenager that prosecutors said was over a stolen pizza.
The Philadelphia Inquirer reports that jurors deadlocked Tuesday on a charge of voluntary manslaughter against former sergeant Chauncey Ellison and criminal conspiracy against former officer Robin Fortune.
The jury acquitted Ellison of a weapons charge and conspiracy to commit manslaughter, according to court records.
Local
Breaking news and the stories that matter to your neighborhood.
Authorities said the two chased a suspect in 2008 after their teenage sons were robbed of a pizza, and Ellison ended up shooting a 19-year-old man, who was paralyzed and died three months later.
Both Ellison and Fortune were off-duty Philadelphia Police officers at the time of the shooting in the city's West Oak Lane neighborhood. They were fired in 2010.
Jurors twice interrupted deliberations to rehear testimony by neighbors who said they saw the victim with a gun.
Prosecutors said they will decide later whether to retry the officers on the mistrial counts.
Each man faces one to two years in prison for the misdemeanor conviction.
Last summer, the Philadelphia District Attorney's Office said the shooting started over an argument over a stolen pizza. Authorities say on Nov. 17, 2008, Ellison's 14-year-old son and Fortune's 14-year-old son told them that a teenage boy stole their pizza. The group allegedly went looking for the teen robber and found him in front of 19-year-old Lawrence Allen's house. Authorities say Allen, who wasn't involved at all with the robbery, tried to diffuse the situation.
During the trial, the defense argued self-defense -- that Allen pulled a gun before Ellison shot. A gun was never found by his body, however.
Officials say Fortune began screaming at Ellison, calling him names and asking if he was "going to let them do this to your son," according to the D.A.'s office, who said Ellison shot Lawrence Allen once and severed his spinal cord. Allen lived as a paraplegic until he died.
Sentencing is set for January.
Copyright AP - Associated Press