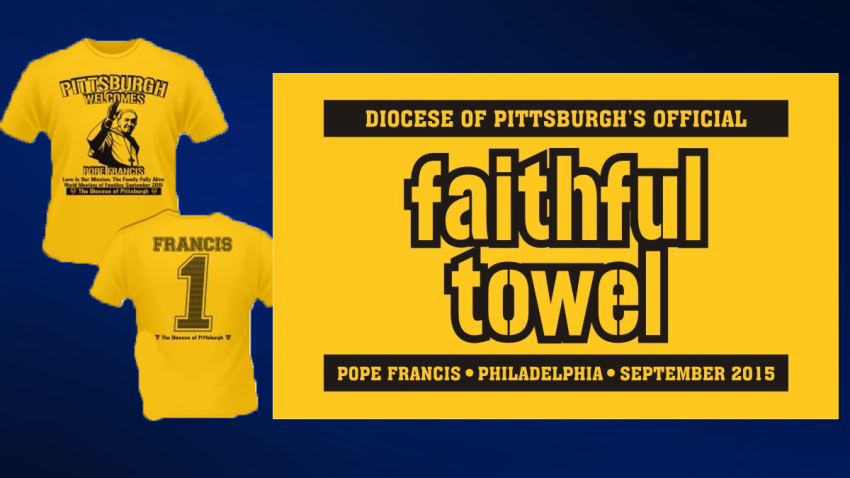 You're in Pennsylvania. It's a Sunday in late September. A sea of black-and-gold-clad people waves towels in your general direction. But you're not at a Pittsburgh Steelers game — you're at Sunday Mass on the Benjamin Franklin Parkway.
Over 1,000 people will travel to Philadelphia from the Steel City for the World Meeting of Families and Papal Visit.
Helene Paharik, Associate General Secretary at the Diocese of Pittsburgh, re-imagined a Pittsburgh classic, the Terrible Towel, which gained fame from its use at Steelers games, as the Faithful Towel.
Local
Breaking news and the stories that matter to your neighborhood.
"I wanted our pilgrims to be able to spot one another in the crowd. And just as importantly, for all the folks watching the Papal Mass on TV, I wanted them to be able to spot Pittsburgh in the crowd," Paharik said.
As for what those pilgrims will wear while they are in the City of Brotherly Love? The choice is obvious. Expect to see lots of Pittsburgh's famous colors.
"Hundreds of Pittsburghers in black and gold, waving their Faithful Towels just might be visible in the crowd of over one million," Paharik said. "On game days, everyone in Pittsburgh is decked out in black and yellow. Office workers, cashiers at the grocery stores, nurses, you name it. Nothing says Pittsburgh better than black and gold."
The Diocese is also making T-shirt jerseys featuring an image of the Pope on the front and "Francis" and the number 1 on the back (because he is the first Pope to take that name).
Pilgrims from Pittsburgh will do more than just see the Pope during their stay — they will also help out around the community.
"It's not just about seeing Pope Francis for our group. It's about listening to what he is telling us," Paharik said.
The Pittsburghers will fund a meal for and donate winter clothes to the homeless of Philadelphia. They will also work with other Catholics to prepare 200,000 emergency meals to send to families in need in West Africa through Catholic Relief Services.