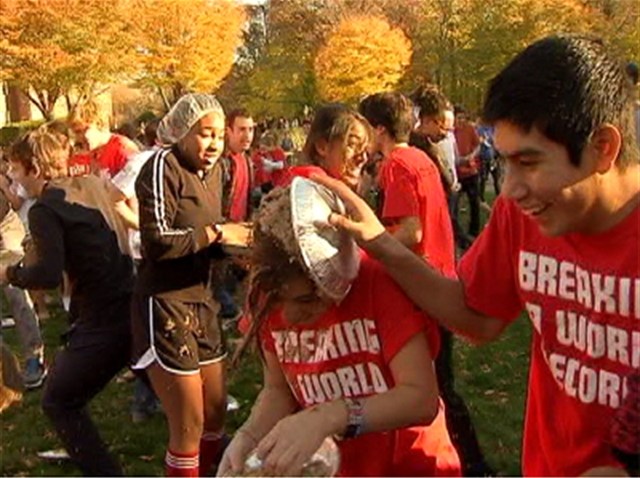 It's pies on the fly at a New Jersey prep school in search of a Guinness World Record.
Organizers say some 671 students and staff at The Lawrenceville School turned out Thursday afternoon to attempt to break the record for biggest custard pie fight.

The gooey chaos on the campus fields is all for a good cause.

Organizers say 671 people -- including school Head Master Liz Duffy -- took part in the gooey chaos that played out on a large campus field Thursday afternoon. Students developed it as a fundraiser for the Trenton Area Soup Kitchen, and organizers
estimated that they raised somewhere between $9,000 and $10,000.
"This is every kid's dream, to be in a massive food fight and not get in trouble, but the best part is knowing that we're doing something to help the community around our school," said Alex Frumkin, a 17-year-old senior from New York City -- and
third-generation Lawrenceville student -- who said she didn't mind being covered in custard. "Lawrenceville students realize we are fortunate, and community service is an important mission for us. And to raise money this way, it was just a great day."
Local
Breaking news and the stories that matter to your neighborhood.
Organizers say they hope to know within the next few weeks whether they set the record.
The school needed at least 435 people to hurl the six-ounce chocolate custard pies with graham cracker crusts to beat the current mark. The record is based on the number of participants, and each had to have access to at least two edible pies -- all of which were baked at the school by students and other volunteers led by Gary Giberson, the school's director of dining services.
The Lawrenceville School, whose campus is a National Historic Landmark, has 815 students from 33 states and 33 countries. About two-thirds of the students live at the elite school in Mercer County. Founded in 1810 as the Maidenhead Academy, the school was for boys only until 1987.
The record-setting attempt came about earlier this year when student council president Nathan Brody was seeking the office.
As part of his campaign, the senior wanted to hold a large fundraising event and set a record at the same time, so he asked fellow students to come up with suggestions. They eventually whittled the list down to three: the pie fight, a massive dodge ball game or mattress dominos.
"We figured doing the pie fight would be the easiest one to put together, so we moved ahead and everyone (at the school) got into it," Brody said.
All that planning came to fruition Thursday.
In the moments before the fight began, various groups of students and staff huddled together to motivate themselves and plot last-minute strategy as pop music blared from the loudspeakers.
After an organizer gave them a brief reminder of the rules, the fight was on.
"It was chaos, but fun chaos," Frumkin said.
No injuries were reported, but most participants emerged from the fray with a good coating of custard on their bodies. But a lucky few -- including Spanish teacher Julio Alcantara -- ended up covered from head to toe in goo.
"This is what happens when you're nice to your students," Alcantara joked as he walked off the field. "You give them A's, and they still get you good with pies… but I enjoyed it!"
Copyright AP - Associated Press