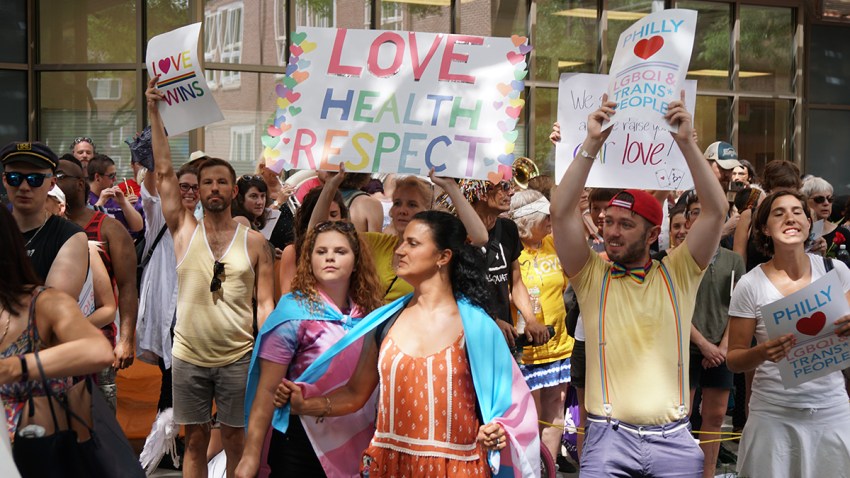 When Deja Lynn Alvarez found out the well-reviled Westboro Baptist Church planned to spew hate at a demonstration outside Philadelphia's transgender clinic at the Mazzoni Center, she knew some love was in order.
The transgender woman, who runs the city's only LGBTQ shelter, got a few friends together and organized "The Great Wall of Love," a counter-protest to block Westboro's message that transgender individuals, like gays, are an abomination.
The idea: flood the street with members of the LGBTQ community and straight allys who would make noise and hold up signs to keep the entrance to the Mazzoni Center, at 9th and Locust in Center City, open and free of the negative distraction.
Local
Breaking news and the stories that matter to your neighborhood.
"This is a safe place where members of the transgender community can come to get their care and to think that the Westboro Baptist Church could derail that or interrupt it in some way, just didn't sit well with us," she said.
They made a Facebook event page asking people to show up. And they weren't let down.
Hundreds of people filled the sidewalk outside the center Tuesday afternoon ready for a battle of love against hate. People holding signs like "God is Transgender," "Philly Hearts LGBTQI and Trans People" and "Love Wins" stretched four deep for nearly the entire block from 8th to 9th Street.
Leanna Vanencia, who appeared at the event as "Gay Jesus," dressed in a white tunic and flower crown, was overwhelmed by the show of support.
"It makes me feel very hopeful," she said. "It makes me definitely feel like there's hope for our community in the future."
Westboro supporters, who are in town to protest during this week's Democratic National Convention," were supposed to set up across the street from the Mazzoni's entrance, but were relegated to the corner of 8th and Locust.
About a dozne were expected, but only five showed up. They were surrounded by police as they chanted and held signs denoucning the LGBTQ community.
A number of counter-protesters didn't even realize Westboro had shown up. Sara Frazier was one of them.
"I think we did [achieve our goal]," she said.
After about an hour, Westboro was gone. But the wall of love continued to stand.
"We have a community that no matter how hot, no matter where they need to go, that'll step up and stop people from harassing, hurting and preventing people from getting access to health care," said Nellie Fitzpatrick, director of the city's Office on LGBT Affairs.
For Alvarez, the event demonstrated a lot more.
"For so long the 'T' has been left out of the 'L-G-B' and this is showing that there's a movement to change that. I feel like the transgender community has kind of taken hold and claimed their own space and the rest of the community has come together with us," she said.
"And I can't help but feel like 'finally.'"