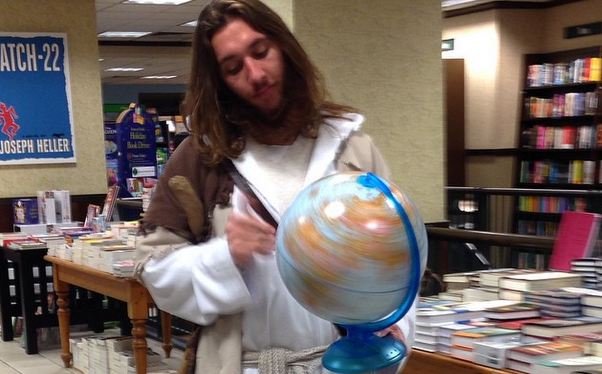 From LOVE Park to the world! Philly Jesus' recent legal woes – and social media's reaction to the arrest — have made him a celebrity near and far.
"Everything's happening for a reason and God's going to use this negative situation to push me into the destiny that he has for me so I can spread the word of God to an even larger audience in a global fashion," Michael Grant, aka Philly Jesus, told NBC10.com.
The BBC (yes, that British Broadcasting Corporation) recently announced it would tell the story of Philly Jesus as he spreads to word of Christ in Center City Philadelphia.
Local
Breaking news and the stories that matter to your neighborhood.
"They focused on why I do what I do. I told them that the same way they bring the story of Christ to the big screen or like to a play I bring it to the streets of Philadelphia. I use my passion for the performing arts to share Christ in a fun, likable manner."
The BBC story came after Grant's disorderly conduct arrest in LOVE Park earlier this month that led to the #FreePhillyJesus hashtag and a rise in Grant's exposure.
"I believe that God is using the arrest that happened to turn it around for the good, to spread his message in a worldwide international way."
Grant, 28, a former heroin addict picked up the frock – taking on the Philly Jesus persona – about one year ago after he found Christ while being treated in a court-ordered treatment program.
Since then, he makes a daily pilgrimage to LOVE Park where he takes photos with tourists and serves as the park's de facto preacher.
"I wear what I wear as a conversation starter, instead of me going up to people and pushing the gospel on them they'll up come up to me and ask for a photo with me... that opens up a conversation to even speak about God and the gospel.
"I tell people I do not charge for the photos but tips are always welcome," said Grant.
Being Philly Jesus is now Grant's full time gig.
"I'm making this into a career, I do this because it makes me happy, I feel like it's my calling that God has given me."
Grant grew up in the theater and believes that training helps him be Philly Jesus.
"I'm using the talent that God gave me for the stage and using it for his glory," Grant said. "I don't want people to think of Michael Grant when they look at me I want them to think of Jesus."
Grant now wears a combination of about four different outfits as he holds court in LOVE Park.

"Just like Batman has a Bat Cave, Philly Jesus has a Philly Jesus Cave," said Grant. "I keep my wardrobe; I keep my vigilante uniform, in the Philly Jesus Cave."
Grant said he couldn't speak about his pending legal case but he could speak about his future even if he wouldn't reveal exact details of what's next.
"I'm gonna keep it as a surprise."
One thing is, however, is certain, according to Grant.
"I plan on doing this for the rest of my life. And, as I age, and probably when I start to get white hairs and start to get gray hairs on my face, I'll morph into Philly Moses," Grant said with a laugh.
Grant understands that despite his celebrity, not everyone is as thrilled about the Philly Jesus phenomena as Grant's more than 5,700 Instagram and nearly 1,600 Twitter followers.
"To all my haters who tell me to stop what I'm doing, you're gonna to go to hell... you're being sacrilegious, or you're being blasphemes," he said. "I just want to tell all my haters that I love you and be patient, I got more for you to hate on coming soon."