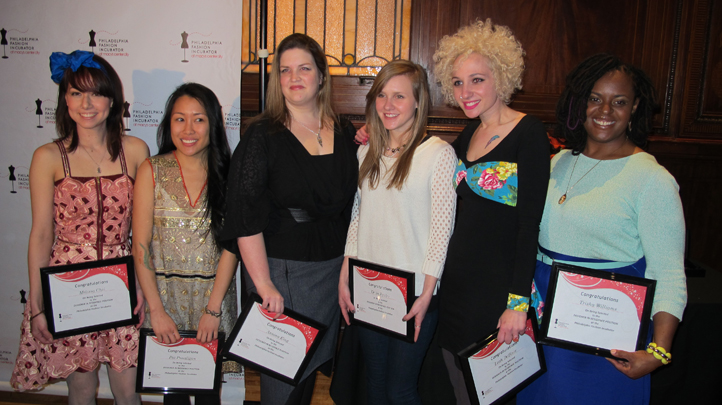 The Philadelphia Fashion Incubator at Macy's Center City installed its second class of resident designers today.
"I'm very excited and extremely honored to be chosen, especially after only being in business for one year. I screamed and I cried when I found out," said Trisha Williams of Trisha Will.
"I plan to build my business nationally and then blow up," said Leah Delfiner of Pretty Pretty Rebel.
Local
Breaking news and the stories that matter to your neighborhood.
In addition to Delfiner and Williams, the 2013 resident class consists of: Devin Pauley of Morgia Bridal, Annina King of Granaté Pret, and the duo Pia Panaligan and Melissa Choi of Senpai + Kohai.
"The program is based on the business side of fashion, not design," said Elissa Bloom, executive director of the incubator.
To apply for the program, designers have to be living in the area and already have an existing brand. This year, the five winners were chosen from a pool of 19 applicants.
The incubator designers get free use of studio space inside Macy's and access to a barrage of fashion, business, marketing and legal experts who volunteer their time and expertise for one year. The goal is to assist the designers with growing their fashion brand into a business.
Designers spend 35 hours per week at the studio and attend monthly workshops targeted to help their businesses. Similiar programs in San Francisco and Chicago cost the residents up to $400 per month.
Delfiner, 24, described her clothing as a ready-to-wear line inspired by rock and roll music with a girly, feminine side.
She is an Art Institute of Philadelphia graduate who interned with Betsey Johnson in New York City. Delfiner says Johnson taught her "how to design clothes, very funky but wearable and sellable."
Floral peplun dresses are signature in her collection. Delfiner described herself as "obsessed with color."
Originally from Boston, Williams has resided in Philly for the past 5 years with her husband and three children. "I'm thinking it's going to be a lot of work, but a lot of success as well. My goal is to be nationwide in the next three years," she said.
Pauley, 23 of Indiana, is a graduate of Moore College of Art. Her senior thesis was a bridal collection inspired by Alexander McQueen. She now creates custom-made bridal gowns. "Everyone is in the same boat. You're trying to get your line out there," she said.
Sisters Moriamo Johnson, 32, and Latifat Obajinma, 24, of Aso Damisi went through the program last year. Ten retailers are carrying their clothing line, including Joan Shepp in Center City, Linda Golden in Haverford, Coco Blu in Wayne, and stores in Florida, Michigan, Maryland and New Jersey.
Johnson said, "Being a part of a program like this-- we've experienced a lot of personal and professional growth."
The incubator is a partnership between the City of Philadelphia, Macy's Center City, Center City District and educational institutions supportive of fashion design in Philly.
"What this is doing is a trickle-down effect. The impact is very real. It's truly not just fashion, it's also economic development," said Karen Randal of the city's Office of Business Attraction and Retention.