UPDATE: New details on Josephus' court records here.
After Philadelphia Police identified a man accused of shooting and killing a Temple University graduate who was walking his dog last week in the city's Brewerytown neighborhood, some in law enforcement asked why the suspect was out on bail at the time.
Davis Josephus, 20, is charged with the murder of Milan Loncar.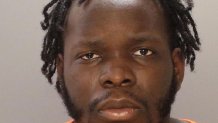 On Wednesday, Loncar, 25, was walking his dog near 31st and Jefferson streets in Brewerytown when two people approached him. Surveillance video released by police showed two people reaching into Loncar's pockets.
Then one of the suspects fired a shot at Loncar's chest.
That same night, around 8:35 p.m., police stopped a 2012 Ford Focus at B & Indiana streets in connection to a carjacking that had occurred the day before.
Local
Breaking news and the stories that matter to your neighborhood.
Police said four men fled the vehicle however they apprehended the driver, who they later identified as the man who had shot and killed Loncar.
Police later identified the suspect as Josephus.
Saturday night, police announced Josephus and a second person of interest had been taken into custody.
Josephus was held without bail in Loncar's murder. NBC10 has yet to hear back for comment on Josephus' behalf from an attorney who has represented him in a previous case. He is also charged with receiving stolen property and unauthorized use of a motor vehicle.
Josephus was released from jail on previous felony charges a couple of weeks before Loncar's killing. Court documents show that his bail on aggravated assault charges from August was reduced from $200,000 to $12,000. His bail in another robbery and car theft case was reduced from $100,000 to $20,000. He posted bail on Dec. 29.
The bail reduction was questioned by some in the Philadelphia Police Department.
"This male was on the street with two open felony cases because his bail was reduced from 200K to 12K," Philadelphia Police Inspector Derrick Wood tweeted. "This is ridiculous and another example of bail decisions that are being made without considering the safety of the community. Consequences matter."
Philadelphia District Attorney Larry Krasner said his office had argued last year for Josephus to be held on higher bail, but that the judiciary sets bail, not the District Attorney's Office.
"The Philadelphia DAO argued in two separate cases last year that Davis Josephus be held in jail, yet bail was lowered by judges over our objections," Krasner said in a written statement.
"This violent act robbed a young man of his life and future, and inflicted additional violence on the family and community that grieves him," Krasner said.
Loncar graduated from Temple with an engineering degree in December 2019 and worked for construction firm Whiting-Turner.
Loncar's mother, Amy Lounsberry, spoke with NBC10 earlier this week.
"There's no reason to it. No reason to it," Lounsberry said. "He didn't have any money on him. He didn't fight back. He didn't say anything wrong. It's just too much. It's just not right."
Lounsberry said her son's girlfriend was about to move in with him.
"They had already started bringing stuff over," she said. "They were excited. Everything was coming together for him and it's just not fair."
CORRECTION (Jan. 18, 2021, 7:53 a.m.): This story has been updated to show the correct bail amount for Davis Josephus.
CORRECTION (Jan. 18, 2021, 7:11 a.m.): This story has been updated to name the suspect as Davis Josephus.
There are additional resources for people or communities that have endured gun violence in Philadelphia. Further information can be found here.