Thursday afternoon gave way to more regional protests, including on east Market Street, and later the Benjamin Franklin Parkway, following the death of George Floyd in police custody. And city and state leaders announced changes in the wake of the demonstrations.
Gov. Tom Wolf said Pennsylvania will add a deputy inspector general to focus on fraud, waste and misconduct in law enforcement agencies; create a state police advisory commission, and help municipalities do the same; and changing training, especially on uses of force.
"The protests that have been occurring throughout the nation over the last couple days have done their intended job," Wolf said. "They've called our attention once again to systematic injustice - that has blocked our nation from living out our destiny as a land of freedom and equality for all."
Philly will form a new committee to tackle racial inequities and poverty issues. committee will contain faith and community leaders, some of whom spoke at a news conference Thursday.
"It's very important now that we've heard the voices, we've heard the cries, and we've heard the righteousness of the protesters, now that we work to get some of those things actualized," said Ryan Boyer, of the Laborers' District Council and Philadelphia Community Stakeholders.
"The best way to find out about that stuff is by talking to the people who are closest to the issues," Mayor Jim Kenney said later. The members will meet and talk about the issues, but there is no timeline for when the committee might provide a report or update.
Earlier Thursday, Kenney, members of City Council, and District Attorney Larry Krasner were seen getting involved in demonstrations.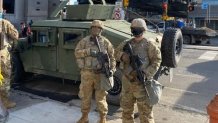 At the same time as those shows of solidarity, the National Guard was posted in armored Humvees at Kensington and Allegheny avenues. A day earlier, Kenney told residents to expect an increased presence in neighborhoods. And the city again set a curfew, this time for 8 p.m. - after days of unrest including looting of some stores.
Local
Breaking news and the stories that matter to your neighborhood.
At least 755 people have been arrested since Saturday, including nearly 492 for a curfew violation or failure to disperse, and 228 for looting, Police Commissioner Danielle Outlaw said.
Shortly after noon, the mayor was spotted at Broad and Erie, where a Black Lives Matter protest was expected to begin in the afternoon. Outlaw said the city was aware of at least four demonstrations planned for Thursday.
And Krasner knelt with faith leaders outside City Hall near the memorial of Octavius Catto, a civil rights activist and Civil War vet - in the National Guard - who was murdered on Election Day in 1871 while trying to get out the Black vote.
In a morning Zoom meeting, councilmembers knelt and had a moment of silence to remember Floyd, who was killed by a Minneapolis police officer during an arrest. (The officer who knelt on Floyd's neck, and the other cops who were at the scene, are now facing criminal charges.)
In recent protests, some police officers have knelt with protesters, and the Camden police chief even carried their banner on Saturday. Outlaw said it's an officer's choice.
SkyForce 10 also showed a group of protesters marching through Radnor in Delaware County, headed for Conestoga High School in Tredyffrin Township. People were coming out of their homes to join in the march, or pulling over to hand out water and snacks.
Farther west, in the state capital Harrisburg, city officials knelt outside the government building to protest systemic racism.