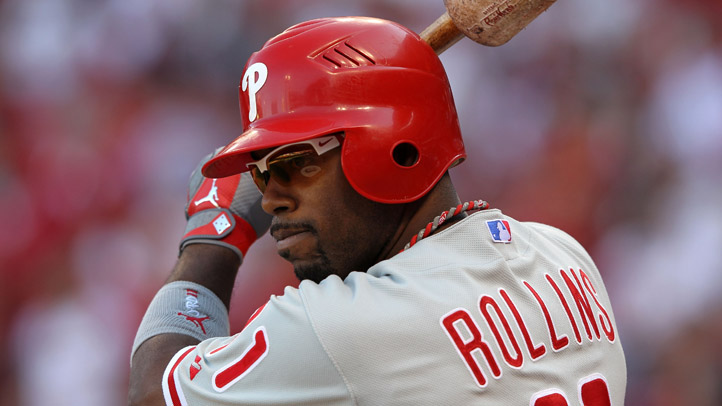 This month, we here at Philthy Stuff will be counting down the New Year's resolutions of each member on the Phillies, and what they can do to guide this team back to October. First up, Jimmy Rollins.

The first player resolution is not surprisingly the lead off hitter for the Phillies, Jimmy Rollins.
Rollins, who is the longest tenured player on the roster, is also the recent recipient of a three-year contract that will pay him $11MM through 2014, with a vesting option for a fourth year. Given that sort of financial security and his place in Phillies lore, Rollins doesn't have as much to play for coming into this season, but he has as much to prove as anyone.

After struggling to stay healthy in 2010, Rollins bounced back nicely in 2011 to post his best single season since we won the National League MVP in 2007. He posted a line of .268/.338/.399 to go along with 16 homers, 22 doubles and 30 stolen bases, all while playing superb defense at shortstop.

And while a repeat performance in 2012 would be nice, there are a few things that Jimmy could do in 2012 to get the Phillies to the postseason for the sixth straight year.

Stay Healthy: It seems that the book on Rollins lately is that he has a hard time staying healthy, despite the fact that he's only had two seasons in which he's played fewer than 140 games. But, when your primary weapons are your legs, the health issue tends to get raised more often when you've been the victim of injuries to your lower half, as Rollins has. Even though he did play 142 games last season, the last thing the fans (and the front office) want to see is Wilson Valdez or Michael Martinez playing shortstop on a daily basis.

Patience is a Virtue: One of the biggest critiques of Jimmy's game over the course of his career is that, for a lead off hitter, he is far too impatient at the plate, as evidenced by his career on-base percentage of .329. Granted, the bigger issue could be with the manager who fails to recognize that he is not a lead off hitter, but I digress.

Even though Rollins has never really displayed the plate discipline that you'd like to see out of a lead off hitter, he did show flashes of it last season, when he was hitting third while Chase Utley was on the DL. Through 145 at-bats in 36 games, he has a .372 on-base percentage, which is well above his career high. Sadly, he regressed to his mean and ended the season with an OBP of .338.

It would be unfair of us to expect him to wildly alter his plate approach at this point in his career, but a few less first pitch swings and a few more pitches taken can go a long way for the lead off hitter of an offense that is slowly down considerably.

Just Be Jimmy: This one is sort of nebulous, but one of the reasons that Jimmy Rollins is beloved by the fans (except for that one time he called them front runners) is because of his magnetic personality and charisma. While Chase Utley and Roy Halladay prefer to be the strong, silent types, Rollins is never not entertaining, be it on the field or off. His "We're the team to beat" speech in 2007 probably won him the MVP that season and went quite a long way to propelling the narrative of "when Jimmy goes, so goes the team." Even though personality and leadership qualities are probably a bit overrated, there is not one person in the greater Philadelphia area that wouldn't benefit from Jimmy flashing that big grin of his and breaking the J-Roll Swag-O-Meter.