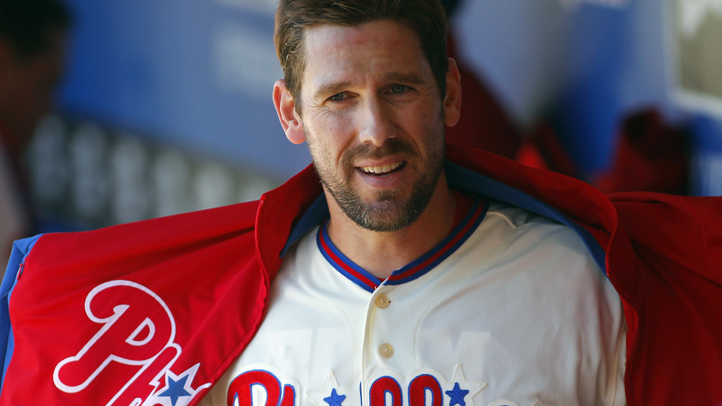 Chase Utley to Rehab in Double-A Reading

The second baseman, who has been out since the middle of May with an oblique injury, started his journey back from the disabled list on Wednesday night with the Reading Phillies. Utley went 0-for-3 in his first action in a month.

At the time of his injury, Utley was hitting .272 with seven homers. To say that they missed his bat would be an understatement, as Freddy Galvis – who has manned second more than anyone in Chase's absence – has hit just .154 since May 21.

Zambrano On the Horizon

Carlos Zambrano, the Phillies' most recent reclamation project, made his fifth minor league start for the Phillies on Tuesday night. In a seven inning effort, the 32-year-old struck out six and did not allow a run. In 28 minor league innings over the last few weeks, the right-hander has a 0.95 ERA, with 23 strikeouts in 28.1 innings of work.

Assuming the Phillies call him up, he'll likely take the rotation spot of either RHP Tyler Cloyd (2-2, 18 K, 3.41 ERA in 34 IP) or RHP Jonathan Pettibone (3-3, 38 K, 4.40 ERA in 61.1 IP)

The veteran Zambrano pitched for the Miami Marlins in 2012, where he had a 4.49 ERA in 132 innings with the Fish.

Brown Slowing Down

Domonic Brown, who was the hottest hitter in baseball for about three weeks, has hit the skids as of late, with a .388 OPS in his last nine games. In that span, he has five hits in 33 at-bats, with no homers and seven strikeouts. In the nine games prior, Brown had six homers, a 1.588 OPS and 15 hits in 34 at-bats.

There isn't much to take away from that, other than the fact that baseball is a cruel sport, and players often cool down as quickly as they heat up. His slide has only gone on for about a week, but thanks to his stellar play prior to his skid, it just feels longer.

Howard Heating Up

Thankfully, while Brown has cooled down, Ryan Howard has heated up. Since the beginning of June, the slugger has a 1.015 OPS with a .352 batting average in 17 games. He only has one homer in that span (a monster of a shot on Monday night), but he's got a pair of triples and five doubles to go along with nine walks.

While we'd all like to see Ryan Howard return to his power-hitting ways, you can't complain about the guy who has spent the month getting on base at a .441 clip.

Cliff Lee Being Cliff Lee

It goes without saying, but Cliff Lee has been really, really good this season. It's not a shocker – he owns a 2.80 ERA in a Phillies uniform – but I just wanted to point out how silly-good he has been lately. Unlike last year, where bad luck, a bad offense, and a bad bullpen conspired to keep him out of the win column until July, the lefty is 9-2 following another dominant start this week against the Washington Nationals.

As of Wednesday, Lee is third in the NL in WAR (4.2), ninth in ERA (2.53), second in wins (9), third in WHIP (0.952), third in BB/9 (1.39), and first in inning pitched (110.1).