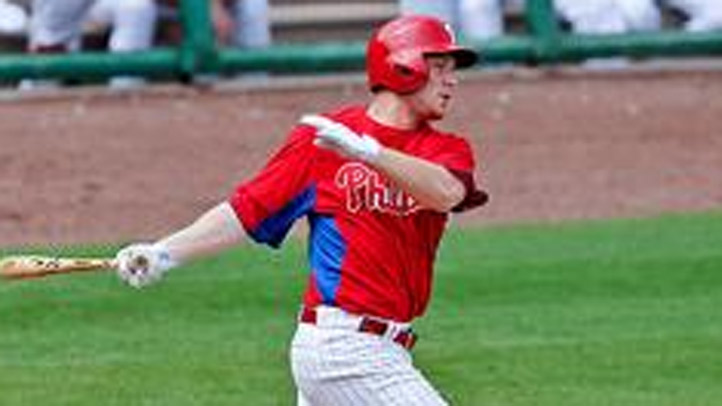 The Phillies made another move towards the future on Tuesday, when they called up 23-year-old third baseman Cody Asche from Triple-A Lehigh Valley, as first reported by Yahoo!'s Jeff Passan.

Asche, who was taken in the 4th round of the 2011 draft, got everyone's attention last season, when he put together a .324/.369/.481 line with 12 homers and 11 stolen bases in 130 games between A and AA. In 68 games with the Reading Phillies last season, he had an .873 OPS and 10 homers in 68 games. Since starting this season with the Lehigh Valley IronPigs, Asche has compiled a .295/.352/.485 line with 15 homers and 11 homers in 104 games.

The left-handed hitting third baseman was rated as the team's eighth best prospect by ESPN's Keith Law earlier this year, lower than both Jonathan Pettibone (7) and Maikel Franco (4), who many believe to be the third baseman of the future, thanks largely in part to a terrific 2013 that saw the 20-year-old post a .325/.365/.581 line with 23 homers in 99 games between A and AA. While it remains to be seen whether or not Franco is going to be appearing in red pinstripes any time soon, the fact is that the Phillies are turning towards their youth in a season that is, for all intents and purposes, over.

While Asche wasn't in the starting lineup come game time on Tuesday against the San Francisco Giants, the smart money is on him taking over at the hot corner when current third baseman Michael Young gets traded before Wednesday's 4 p.m. deadline. Like we wrote about on Monday, Young seems to be the most likely Phillie to go, even if Phillies General Manager Ruben Amaro insists that the veteran is staying put.

Of course, that's just Ruben Amaro doing what Ruben Amaro does best: posturing. He's never been the most transparent type, and if you think back to December of 2010, the Phillies weren't even on the radar in the Cliff Lee sweepstakes until the last minute, when Amaro swooped in and signed the Ace away from the Texas Rangers and New York Yankees. So, to suggest that he is being 100% truthful in saying that Young is unlikely to be moved is foolish, because there is no value in not trading Young before the deadline.

The only thing that appears to be preventing a Young trade from occurring is his no-trade clause that allows him to block a trade to any team. As of Tuesday afternoon, word has it that Young would only approve a trade back to the Rangers, but ESPN's Jayson Stark tweeted that Young would potentially approve a trade to the Boston Red Sox or New York Yankees. Both AL East clubs have expressed an interest in acquiring a third baseman, and both would be a good fit for Young if he approves a trade.

There is less than 24 hours to go until the non-waiver trade deadline, and like in year's past, most of the heavy lifting will be done on the final day, so it wouldn't be a surprise if Young stays put until Wednesday.