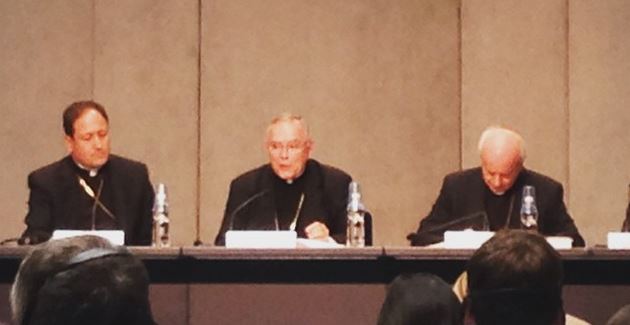 Philadelphia and international religious leaders held a news conference Thursday morning in the Vatican after meeting to discuss the latest preparations for the 2015 World Meeting of Families in Philadelphia from September 22-25. They touched on several key points leading up to September's huge reception, as well as the visit by Pope Francis on September 26-27.
On size:
Archbishop Vincenzo Paglia, President of the Pontifical Council for the Family, said the event and papal visit it is predicted to be the largest ever gathering in the history of the United States.
Local
Breaking news and the stories that matter to your neighborhood.
"Philadelphia will become the capital city of families," Paglia said.
"We expect between 750,000 to one million people to attend the Festival of Families on Saturday, and more than a million people for the mass of Pope Francis on Sunday," said Archbishop Charles Chaput.
Philadelphia's Auxiliary Bishop, John McIntyre estimated one to two million will attend Pope Francis' Mass.
15,000 delegates from around the world are expected to participate in the World Meeting of Families. 11,821 have already paid to attend.
On inclusivity:
Ron Belgau, of Notre Dame University, will give a talk on the issue of gay families. "We want it to be a force of transformation in society.
Chaput on gay families: "People attracted to the same sex are welcome to attend."
According to McIntyre, "Approximately 50 of our presenters are from outside of the United States. We also drew from presenters from other faiths: a Mormon elder, a Presbyterian, Evangelical Lutheran and a Rabbi. Thirty percent of our speakers are not Catholic."
Guest Appearances:
Andrea Bocelli, the Latin American artist Juanes and the Philadelphia Orchestra will perform Saturday night during the Festival of Families.
Cardinal Patrick O'Malley will give a keynote speech on the joy of the gospel of life.
On logistics:
Chaput: $30 million of the $45 million budget has been raised. That includes money for crowd safety, infrastructure and cleanup.
Chaput estimated the World Meeting of Families and papal visit will fill 65,000 hotel rooms within a 60 mile radius.
The summit hopes to draw 10,000 volunteers – 6,100 are already signed up.