What to Know
Philadelphia police officer Paul Sulock was shot in Kensington Wednesday morning.
Sulock is a 10-year veteran of the Philadelphia Police Department and a father of four.
He was hit by gunfire while attempting to break up a potential shooting, police said.
Update: On April 16, 2019, prosecutors dropped the charges against James Gauthney, saying they could not prove them beyond a reasonable doubt. This story has been updated.
Two men were charged Friday in the shooting of Philadelphia police officer Paul Sulock in the city's Kensington neighborhood earlier this week.
Jerome Hill, 29, faces multiple counts of attempted murder, aggravated assault, criminal trespass and other crimes for allegedly shooting Sulock, the Philadelphia District Attorney's Office said. Prosecutors hit him with 13 charges in all.
Nineteen-year-old James Gauthney, an accused accomplice, had been charged with hindering apprehension and obstruction of justice, prosecutors said. On April 16, prosecutors dropped those charges.
Hill is being held on $3.3 million bail.
Sulock, 10-year police force veteran and married father of four, was shot in the right thigh Wednesday while on patrol with his partner.
Photos: Kensington Police Officer Shot
Philadelphia District Attorney Larry Krasner promised swift justice as he and other city officials rushed to Temple University Hospital shortly after the shooting.
"The officers' actions were not only appropriate, they were heroic," Krasner said.
On Friday, Krasner declined to discuss Hill's lengthy criminal record beyond the charges he is currently facing. Court documented revealed, however, that Hill's criminal past dates back to 2007 when he faced attempted murder charges. Hill was 17 years old at the time. Those charges were ultimately dropped, according to court records.
Local
Breaking news and the stories that matter to your neighborhood.
But in 2008, he was charged with carrying a firearm without a license. In 2010, he was charged with aggravated assault and in 2011 he was arrested, again, for carrying a gun without a license. He served four years before being arrested in 2016 for driving under the influence, court records showed.
"It is extremely serious when anyone brandishes a weapon in the street but that much more serious when police arrive on the scene to make peace and you turn and fire on them," Krasner said.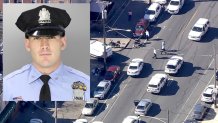 The chaos leading to Sulock's shooting erupted around 11:10 a.m. Wednesday near Madison and G streets in the shadow of SEPTA's Market-Frankford Line.
Sulock and his partner were patrolling nearby when they saw two men crouched behind cars, possibly preparing to shoot at each other, Philadelphia Police Commissioner Richard Ross said.
When Sulock and his partner approached the two men, Hill opened fire, officials said.
Sulock was struck just above the knee. Despite his injury, Sulock chased down the suspects and apprehended one of them, police said.
Sulock's partner, Hill and Gauthney were not injured, police said.