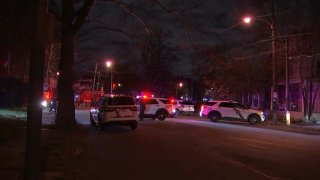 A person was found dead inside a burning car parked near a Philadelphia water ice stand Saturday morning.
Authorities initially said no crash preceded the blaze near the intersection of Adams and Castor avenues, but police later confirmed the car hit a fence and parked vehicle before crews responded around 2 a.m.
The intersection where the body was found is surrounded on all sides by row homes.
The identity of the victim was not immediately available as police conducted their investigation.