What to Know
Clear the Shelters is a nationwide pet adoption initiative.
Fifty area animal shelters and rescues are participating this year.
Join the conversation on social media using #ClearTheShelters
Diane Williams came to Brandywine SPCA in West Chester in search of a little dog for her niece, a shy girl who peeped out of a cloud of black curls.
Her niece didn't smile much as she waited in line until she met Bear, who appeared have some Shih Tzu in him. And then, her grin lit up the shelter.
Nearby, Angel Buzby was looking for a big dog.
"We feel like we need one more family member," she said.
"What kind of puppy are you looking for?" she asked her young daughter.
"A fluffy one!" the girl shouted.
Local
Breaking news and the stories that matter to your neighborhood.
Families like these grew Saturday as thousands of adoptions happened across Pennsylvania, New Jersey and Delaware during Clear the Shelters. NBC10 and Telemundo 62 join the national campaign each year.
As of 6 p.m. Saturday, more than 1,160 animals had been adopted in the Philadelphia metro area in just one day. Throughout the entire Clear the Shelters campaign this year, more than 4,500 Philadelphia-area animals found new homes after being adopted from 50 participating shelters.
Clear the Shelters 2018: Thousands of Pets Adopted
The First State Animal Center and SPCA in Delaware said they had done 34 adoptions in just one day. That's the number they usually do in a week, the shelter reported.
The Brandywine Valley SPCA adopted 243 animals throughout the day. And the Animal Rescue League of Berks County said it adopted 16 cats, 28 dogs, 60 -- yes, 60 -- kittens and one puppy.
Clear the Shelters is a national initiative spearheaded by NBCUniversal Owned Television Stations, with sponsorship from Cat's Pride and Hill's Pet Nutrition. Nationally, the initiative has helped find homes for more than 150,000 pets since 2015.
The numbers are big, but the personal stories are even more touching. Eight months ago, Jane DeNoto's beloved cat, Gretel, passed away.
She'd been thinking about getting another. But it was tough to even contemplate replacing her pet.
"It's hard to get over it, when you love a pet so much," said DeNoto, of Williamstown, New Jersey.
But she steeled herself and came out to the annual Clear the Shelters event Saturday, visiting the Camden County Animal Shelter. She was thinking about adopting an older kitty, and wanted a calm cat, just like Gretel had been.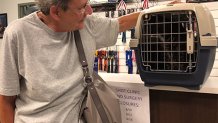 And then she found the dark grey tabby she's planning to name Molly.
Molly is 11 years old, placid, perfect for DeNoto. "She's a little bit shy, quiet," DeNoto said. "When I saw her, I thought, 'She's another Gretel!'" DeNoto said.
The two went home together.
CORRECTION: This story has been updated to correctly reflect how many animals were adopted at the Brandywine Valley SPCA.