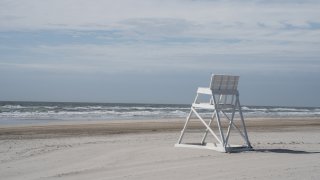 A Pennsylvania man has died after hitting his head while body surfing at a Jersey Shore beach.
The accident occurred around 6:20 p.m. Thursday in at the 21st Street beach in Avalon, New Jersey.
Witnesses told police the 73-year-old York man was body surfing when a large wave caused his head to hit the ground beneath the water surface. He was pulled from the water and was taken to a Cape May County hospital where he was pronounced dead a short time later.
The man's name has not been released.
Authorities say the accident remains under investigation. The Avalon Beach Patrol was off duty at the time, police said.
Copyright AP - Associated Press