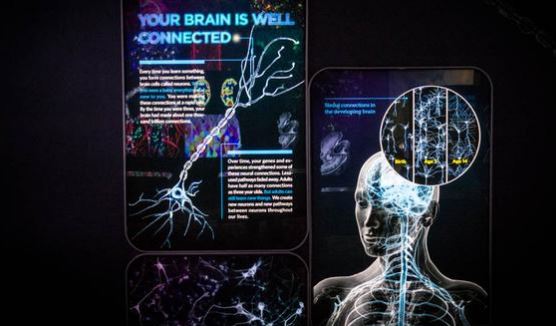 The Franklin Institute is set to debut its 53,000-square-foot, $41 million pavilion on Saturday. And inside is the museum's newest (and perhaps most ambitious) exhibit yet, literally taking visitors for a look inside one of the human body's most complex and misunderstood organs: the brain.
As part of the Nicholas and Athena Karabots Pavilion -- the largest and most significant expansion in the museum's history -- the Your Brain exhibit will be the largest permanent exhibit at the museum, occupying 8,500 square feet and featuring more than 70 interactive experiences, including the 18-foot centerpiece Neural Climb. It's even larger than the museum's other signature exhibit and class-trip favorite, the Giant Heart.
I spoke with Jayatri Das, leader developer of Your Brain and chief bioscientist at The Franklin Institute about the installation's beginnings, the purpose of the exhibit, how it can affect real life and how is connects with the rest of the pavilion.
How did this project come about?
Local
Breaking news and the stories that matter to your neighborhood.
We started this project almost eight years ago thinking about this new expansion of the building, and thinking about what to showcase in the new pavilion. We gave our visitors a choice about whether they might want to a see an exhibit about the cell, the brain or Benjamin Franklin. And, seven years later, I'm so excited they chose the brain because it's more relevant today than it ever has been, and it's a great topic to be talking about. Read more about this story on PBJ.com.
Copyright bizjournal