An exciting new office building in the heart of the Philadelphia Sports Complex is expected to provide a major boost to the city and state economy.
Comcast Spectacor and the Cordish Companies announced new details for Pattison Place, an $80 million, Class-A office tower that will be located right next to Xfinity Live!
Designed by Beyer Blinder Belle and BLT Architects, Pattison Place will feature 200,000 square feet of new construction, a 4,000 square foot lobby, expansive 35-foot ceiling heights and 20,000 square feet of ground-floor retail. The 12-foot floor-to-ceiling windows in the building will also provide panoramic views of the Philadelphia skyline, surrounding sports complex and neighboring Navy Yard.
"We're thrilled to partner with The Cordish Companies and launch the next phase of development within the Philadelphia Sports Complex," Dave Scott, Chairman and CEO of Comcast Spectacor, said. "Pattison Place presents a unique and compelling opportunity in the Sports Complex and builds on the continued success of Xfinity Live!. We're looking forward to making additional announcements as our growing neighborhood expands in new and exciting directions."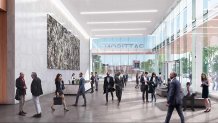 The tower will also feature first class amenities, including exterior signage, roof decks, fitness facilities and on-site parking.
Local
Breaking news and the stories that matter to your neighborhood.
Pattison Place is expected to create 1,670 new jobs and generate $295 million in economic benefits to Philadelphia and Pennsylvania over a 30-year period.
For more information, visit the Pattison Place website.