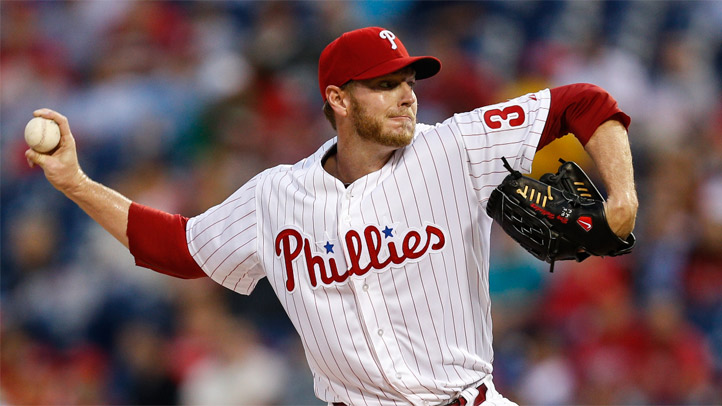 Lannan injured, Savery Called Up: After turning in two solid starts to kick off the season (4 ER in 13 IP), the Phillies new fifth starter got knocked around by the Cincinnati Reds on Wednesday, to the tune of six runs in an inning and two-thirds in what would become a rout for the Reds. Following the start, Lannan was placed on the 15-day DL thanks to a strained quadriceps tendon in his left knee.

To fill Lannan's void, the Phillies recalled LHP Joe Savery from Triple-A Lehigh Valley, where the 27-year-old racked up 11 strikeouts over 7.2 innings without allowing a run. The former starting pitching prospect has a 4.88 ERA in 27.2 innings of work between 2011-12 for the Phillies. He had his 2013 debut on Saturday against the St. Louis Cardinals, where he struck out one in an inning of relief. With the Phillies still in need of a starter to take Lannan's spot on Monday against the Pittsburgh Pirates, it is likely that Savery's tenure with the Phillies will be a short one, as they will look to replace him with a starter from the minor leagues.

Speaking of minor league starting pitchers, former Phillies prospect Jarrod Cosart is having a whale of a spring, with a 1.02 ERA in 17.2 innings and 10.7 K/9 with Houston Astros' AAA affiliate. Not that I want to rehash one of the worst trades in the history of the Phillies organization, but he'd be a nice arm to have in the system right about how, eh?

Phillies Drew a Walk: When John Mayberry walked against Miami Marlins starter Kevin Slowey in the sixth inning of last Sunday's game, little did anyone know that that would be the last base on balls that Phillies hitters would draw for nearly a week. Phillies hitters failed to draw a walk in four consecutive games. Not surprisingly, the Phillies were winless during that stretch.

The walkless streak would last until Friday, when Chase Utley worked a two-out walk on a 3-2 pitch from St. Louis Cardinals pitcher Jaime Garcia. Utley would come around to score, and the Phillies would go on to tag Garcia for eight runs in four innings.

Hamels Back on Track: After two rough starts to begin the season, starting pitcher Cole Hamels has been sharp in back-to-back starts. Despite not earning a decision in either start against the Miami Marlins or St. Louis Cardinals, Hamels has a 2.77 ERA and 13 strikeouts in 13 innings of work, while holding opposing hitters to a .580 OPS.

His performance in his previous two starts is a sight for sore eyes, especially in light of his first two starts of the season, where he had a 10.97 ERA in 10.2 innings of work. In those starts, opposing hitters took Hamels deep four times, and had a 1.129 OPS versus the lefty.
Howard Hurting: The cleanup hitter was absent from the lineup on Friday and Saturday for the Phillies, as he nursed a sore groin. The 33-year-old has been quiet so far this season, with a .274/.303./.387 line with one homer and five RBIs in 16 games.

While Howard has been successful against right-handed pitchers (828 OPS), he is struggling against left-handed pitchers, against whom he has a .258 OPS, with one hit in 15 at-bats.

Howard is due to be back in the lineup on Sunday night in the series finale against the St. Louis Cardinals.

Doc Rebounds: When Roy Halladay earned the 200th win of his career on Sunday, many wondered whether the strength (or lack thereof) of the Miami Marlins lineup had anything to do with his eight-inning performance of five hits and one earned run, and more importantly, if he would be able to repeat that performance against better teams.

He got his chance to prove himself on Friday night, when he kept the hard-hitting St. Louis Cardinals at bay over seven strong innings. He allowed two earned runs on two hits and two walks on the night, while striking out six en route to his second win of the season.