As a result of the Pope's visit to Philadelphia in late September, the Ben Franklin Bridge, along with several major highways, will be shut down.
During a news conference Wednesday with top city officials, including Mayor Michael Nutter, it was announced that the Ben Franklin Bridge will be closed beginning at 10 p.m. on Friday, September 25th till noon on Monday, September 28th. The bridge, however, will remain open to pedestrians.

The following highways will be closed beginning at 10 p.m. on Friday, September 25th:
I-76 (Schuylkill Expressway) eastbound from I-476 (Blue Route) to I-95
I-76 westbound from I-95 to US Route 1
I-676 (Vine Street Expressway) closed in both directions from I-76 to I-95
US Route 1 from Route 30 to Belmont Ave
*I-95 will remain open with selected ramps closed*

In addition, Nutter said a "traffic box" will be put in place in parts of Center City and West Philadelphia. The traffic box for Center City will begin at 6 p.m. on Friday, September 25th and at 10 p.m. on the same day for West Philadelphia.
The following are the boundaries for the Center City traffic box:
Local
Breaking news and the stories that matter to your neighborhood.
The private vehicle lockdown zone is bounded to the south by South Street, to the north by Spring Garden, over to Ridge, and up to Girard, from east to west, it's essentially from river-to-river, Delaware Avenue to the Schuylkill River and up along Kelly Drive.
The following are the boundaries for the West Philadelphia traffic box:
The north boundary is from Powelton Avenue, from 32nd Street to 38th Street, to the south by University Avenue to Grays Ferry, to the east of the Schuylkill River and the train tracks and the west from 38th Street from Powelton Avenue to University Avenue.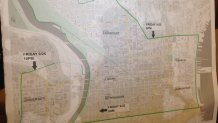 Nutter said vehicles will be allowed to leave the traffic box, but they will not be allowed to re-enter. It was not announced if cabs would be allowed to leave and re-enter.
"Be prepared to walk at least a few miles or more. Private vehicles will really not be a viable option," Nutter said.
Nutter said more than 1,000 state troopers are being deployed to assist in helping secure the visit.
The World Meeting of Families and visit by Pope Francis take place the last full week of September. Pope Francis arrives in Philadelphia early on Saturday, September 26th and leaves around 8 p.m. Sunday, September 27th.