Parking tickets in Norristown are "frustrating as can be," resident Mark Pavlik said moments after he plucked a ticket from his car's front windshield.
Pavlik received a ticket on a recent afternoon for not feeding the meter while parked near the Montgomery County complex downtown. The Nissan parked in front of him, however, had yet to receive a ticket, despite the fact that its meter was also at zero.
"I'm sure it has to be somebody important," Pavlik said.
That was a fair assumption, given the "Official Business" placard on the car's dashboard.
The vehicle belonged to Norristown Borough Council President Sonya Sanders, and as NBC10 Investigators found out, Sanders was on official business a lot. Sanders used her placard to park in metered spaces during busy weekday hours during her day job at the Montgomery County sheriff's office, according to an NBC10 investigation.
For more than a week, NBC10 Investigators observed Sanders parking habits. More than once, traffic enforcement officer passed by her car after seeing her borough-issued placard.
After requests for an interview, Sanders said in an emailed statement that she would no longer use the placard to park for work.
Local
Breaking news and the stories that matter to your neighborhood.
"I recently made an error in judgement in the use of the municipal parking placard," she wrote. "To that end and out of an abundance of caution, I have asked the Municipal Administrator to redirect my entire June 2019 Council stipend to the Municipality's General Fund, which will more than cover the relevant parking fees."
In a follow email, Sanders said she meant her June 2018 stipend, which amounts to $402.
Montgomery County Sheriff Sean Kilkenny, who is also employed by Sanders as the Norristown Borough Solicitor, believed that Sanders parked in the courthouse staff garage when she was working for him at the Sheriff's office. Kilkenny said he directed her to begin using the garage spot going forward.
The unique working relationship between Sanders and Kilkenny dates back to September 2016 when Sanders began working at the sheriff's office. She serves as Kilkenny's office manager and policy director.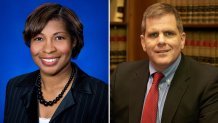 Kilkenny told NBC10 at the time of her hiring that Sanders was picked from numerous candidates for the position in the sheriff's office and he noted that the job was publicly posted. She was one of three finalists and eventually chosen after interviews with Kilkenny, his chief deputy and a lieutenant, the sheriff said Friday afternoon. Her starting salary was $50,933.
He also said he received counsel from an outside law firm that determined the hiring was "perfectly legal."
Kilkenny's work as borough solicitor is through annual appointment by the borough. As of late 2016, he earned $140 an hour for routine business and $165 for litigious matters. His employment as borough solicitor predates Sanders' time on the council by 11 years.
Sanders was first elected in 2013 and took office Jan. 1, 2014. She was re-elected in November 2017 to a new four-year term. She ran unopposed.