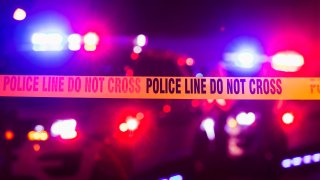 Atlantic County prosecutors say a 36-year-old man was arrested and charged in the shooting death of his girlfriend at her Pleasantville home early Monday morning.
Lamar Pitts of Atlantic City was arrested at the prosecutor's office Monday evening where he was charged with aggravated manslaughter and offenses related to having a stolen gun, prosecutors said.
The Atlantic County Prosecutor's Office said he was also charged with additional weapons offenses from another incident in Pleasantville a week ago.
Officers responding to a 911 call early Monday found 30-year-old Jazmen Martin-Richardson shot by Pitts at her home on the 1000 block of Iowa Avenue, prosecutors said.
Police said the officers were unable to revive Martin-Richardson and she died just after midnight.
Pitts and Martin-Richardson had been dating, accord to the prosecutor's office.
If you or someone you know is experiencing domestic violence, contact the National Domestic Violence Hotline by calling 1-800-799-SAFE (7233), visiting www.thehotline.org or texting LOVEIS to 22522.