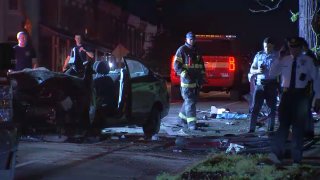 One man died and several people were hurt, including children, when two cars crashed head-on in Philadelphia's Nicetown neighborhood Saturday morning.
The crash near the intersection of King and Roberts streets happened shortly after midnight and ended with a 47-year-old man dead and three children and three women hospitalized, Philadelphia Police Department spokesman, Officer Miguel Torres, said.
The deceased was in the front passenger seat of a Mitsubishi at the time of the crash, which also involved an Infiniti, Torres said, adding that there were five other passengers in the Mitsubishi.
Two boys, 6 and 8 years old, were taken to St. Christopher's Hospital for Children, where the former was in stable condition and the latter was in critical condition, Torres said.
A 14-year-old boy and his 53-year-old mother were taken to Temple University Hospital with non-life-threatening injuries, while another passenger – a 34-year-old woman – was at the same hospital in critical condition, Torres said. A 40-year-old woman was in stable condition at Albert Einstein Medical Center.
One of the cars involved had its entire front end caved in, while the second careened into a nearby utility pole. Police said rescuers had to pry open at least one of the cars to get victims out.
Investigators were still working to determine what caused the crash.