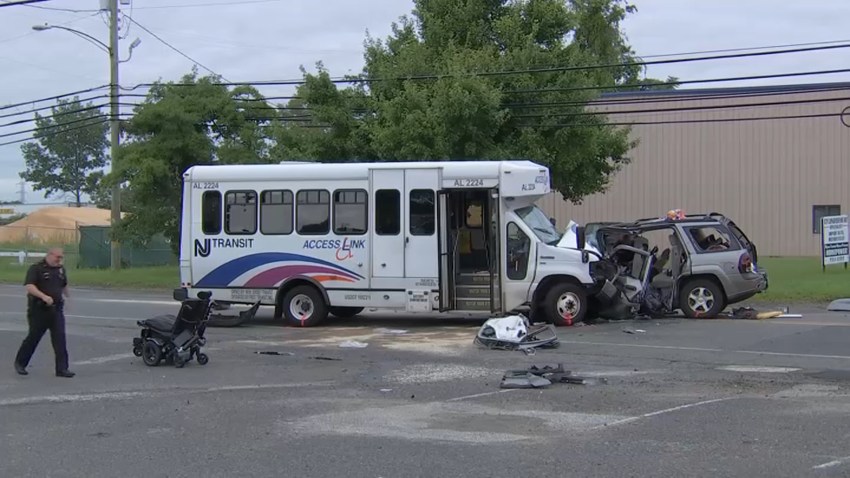 What to Know
A head-on crash involving a New Jersey Transit Access Link bus and an SUV has left a man dead and four other people injured.
The crash in Winslow Township occurred around 5:45 a.m. Friday on Cross Keys Road.
"Take your eyes off the road for a second and tragedy can strike," police said.
A New Jersey Transit paratransit bus and an SUV slammed into each other head-on in South Jersey Friday morning, leaving a 28-year-old driver dead, four people, including a teenager, hurt, both vehicles with front-end damage and a busy road closed.
The wreck happened around 5:45 a.m. along Cross Keys Road near New Freedom Road in Berlin, Camden County.
Howard Markee was driving a 2006 Chevy Trailblazer south on Cross Keys Road when the SUV struck the Ford bus, Winslow Township Police said.
Local
Breaking news and the stories that matter to your neighborhood.
Markee was medevaced to Cooper University Hospital in Camden after it took crews nearly 30 minutes to free him from the wreckage. He died at the hospital.
A 28-year-old woman and 16-year-old also in the SUV had non-life-threatening injuries, police said. All three people in the SUV hailed from Clementon.
The 54-year-old bus driver and his 43-year-old passenger who was in a wheelchair were hospitalized with non-life-threatening injuries, police said. The air bag on the bus deployed.
The vehicles collided head-on as they came to rest against each other with heavy front-end damage.
The Access Link driver said the SUV crossed the center line and slammed into the bus, a spokesman for NJ Transit said. Police later said it appeared the SUV slammed into the northbound bus. Investigators alluded to distracting driving as a cause for the driver going over the center line.
"Take your eyes off the road for a second and tragedy can strike," Deputy Chief Richard Ostermueller said.
The wreckage remained on Cross Keys Road for at least 90 minutes. White Horse Pike could be used as an alternate route as crews work to clear the scene.
Access Link is NJ Transit's ADA paratransit program, part of a fleet used to transport people with disabilities.
Copyright AP - Associated Press