A young couple was shot and stabbed multiple times this week by a man whose family lived across the street from their Bucks County, Pennsylvania, home, a prosecutor said. He then stole the victim's SUV and headed to Philadelphia where he died of a drug overdose.
Daniel Kenneth Mooney, 26, is implicated in the murders of Tyler and Christina Roy.
The couple, both in their late 20s, was killed Monday night after a violent struggle with Mooney on the second floor of their home at 26 Kitty Knight Drive in Churchville, Bucks County First District Attorney Gregg Shore said late Wednesday.
"Our team is unequivocally convinced that he killed the victims and that he acted alone," Shore said during a news conference at the Northampton Township municipal building.
Investigators believe Mooney entered the couple's home through an unlocked door. Shore said a rifle — likely owned by the Roys — was used to shoot the victims. The Roys were discovered Tuesday morning by a painter who was doing remodeling work at the home.
Tyler, 27, and Christina, 28, moved into the home along the quiet suburban street in 2016, the same year they were married. Christina worked as a real estate photographer and Tyler a construction estimator. Neighbors remembered them as a nice couple.

"Clearly vibrant lives have been lost as a result of this tragedy," Shore said.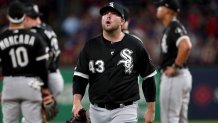 After the killings, Mooney spent some time in the house before stealing the Roys' 2016 Ford Edge, Shore said. He drove about 20 miles south to Northeast Philadelphia, leaving the SUV along with his cell phone.
Local
Breaking news and the stories that matter to your neighborhood.
Mooney later overdosed on illegal drugs in the city's Kensington section and was taken to Temple's Episcopal Hospital, where he died, Shore said.
Mooney did not have identification on him when he died. Philadelphia police later recognized his face after a picture was released Wednesday afternoon at a news conference about he case. He was positively identified later in the day.
Autopsies are scheduled to be performed on all three people on Thursday.
The Roys and Mooney's family were neighbors. The Mooney home is just across the street and within view from the Roys' front door. But Shore said there's no indication Mooney ever met the couple. He hadn't been living with his family.

Prosecutors continue to investigate and process evidence but are resigned that they may never definitively know the motive for the slayings.
It's possible that robbery to fuel a drug habit was a motivator. Mooney had struggled with drug abuse for some time, neighbors and Shore said. Mooney stole a car from a Speedway gas station days before.

Detectives are checking the home to see if Mooney stole belongings before fleeing with their SUV.
Shore said the results of the autopsies along with an analysis of the evidence collected will give detectives a more precise picture of what transpired.