A long-running dispute between two Chester County neighbors came to a head overnight Tuesday when one man gunned down the other in the victim's front lawn, prosecutors said.
Clayton Carter, 51, was charged Tuesday with first-degree murder and related offenses. The shooting happened at 1 a.m. along the 300 block of Box Elder Drive in West Goshen, Pennsylvania.
Chester County District Attorney Tom Hogan said Carter shot his neighbor, Brooks Jennings, two times in the head.
Carter stood over his neighbor and delivered the second shot as Jennings' wife watched from a nearby window, Hogan said. Jennings died at the scene.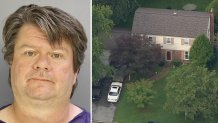 "This killing leaves a wife without a husband, a little boy without a father, and a community in shock and mourning," Hogan said.

Tuesday's deadly shooting was not the first time these feuding neighbors resorted to gunplay, Hogan said. Carter previously pulled a gun on Jennings.
On Monday evening, West Goshen police responded to the neighbors' block after they got into an argument over cursing and recording video in the yard.
But Tuesday's shooting followed an argument over lights being shined into each other's homes, Hogan said. Carter claimed Jennings was pointing a light into his eyes when he was outside. Carter then pulled his car onto his lawn, aimed the front toward Jennings' home and turned on the high beams.

Local
Breaking news and the stories that matter to your neighborhood.
A .380 caliber semi-automatic handgun and two shell casings were recovered at the scene. Carter claimed Jennings' attacked him with a knife, prosecutors said.
A knife was found at the scene, but officials said Carter was not injured and did not call police.
Jennings, a husband and father to a young boy, was a member of the Republican Committee of Chester County. He joined the group in 2014.
Pennsylvania GOP Chair Val DiGiorgio said he was "very well respected" and "one of the most personable, nicest gentlemen."
Court documents show Carter pleaded guilty to a simple assault charge stemming from a 2012 incident.
Neighbors said others had run-ins with Carter related to parking and other issues.

Carter was arraigned on the murder charges Tuesday afternoon at a district court in West Chester. He is being held without bail. It's not immediately clear if Carter has retained an attorney.