Welcome to the home of NBC10 and Telemundo62 inside Philadelphia's Comcast Technology Center. We deliver breaking news, First Alert Weather and investigative reports on air, online, through social media and on our mobile apps — all from our newsroom and studios in this tower.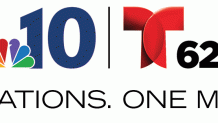 Each week we produce 64 hours of live, local programming and digital content in English and Spanish for nearly 6 million viewers throughout Greater Philadelphia, the Lehigh Valley, South Jersey and Delaware.
Shaping the Future of Technology and Media
We are one of the first local television stations in the United States to use a video internet protocol-based network to broadcast. Our facility, spanning three floors and 80,000 square feet, includes:
Two news sets
Three control rooms
Eight edit rooms
One 1,500-square-foot production studio
Extensive LED panel displays for an immersive experience, with augmented reality capabilities
Sustainability
Local
Breaking news and the stories that matter to your neighborhood.
NBC10 and Telemundo62 were designed to be the most energy-efficient local news stations in the country. Our facility uses a heating, cooling and ventilation system to improve indoor quality and reduce noise pollution. Wall-to-floor windows, equipped with automated shades, capture natural light. All displays and computers are Energy Star compliant.
Currently pending is certification for the U.S. Green Building Council's LEED Platinum recognition — the highest energy-efficient rating within the Council's system.
Our People
As part of NBCUniversal, we understand the power and possibilities of media and technology. As a company uniquely positioned to inform, empower and inspire, we embrace the opportunity to create conversation and mobilize action to address some of the world's most critical issues. We champion an inclusive culture and strive to attract and develop a diverse, talented workforce to create and deliver a spectrum of content reflecting the current and changing face of the world.
Our Community
NBC10 and Telemundo62 engage our audience throughout Greater Philadelphia and inspire them to make a difference in their community. We support our partners by promoting their events sharing stories and serving their community needs.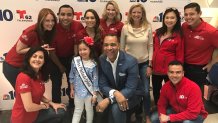 Among our stations' signature events are Comcast Cares Day, Wawa Welcome America, Hispanic Fiesta, Día del Niño and Clear the Shelters.