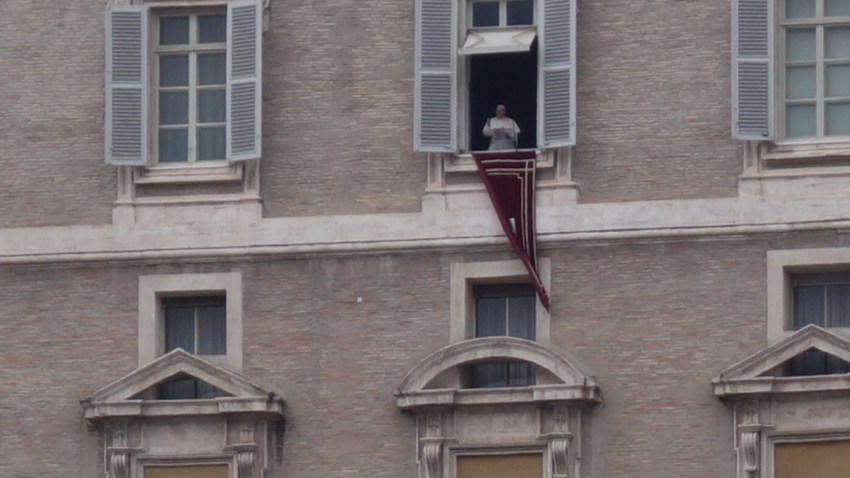 Day 2 in Rome started with a detour. We walked out of Hotel Minerve and were immediately reminded that all the streets around us were blocked off because there's a marathon today. The good news is, our hotel is a stone's throw away from the Pantheon and who doesn't like to start their day looking at the oldest, well-preserved building in Rome? And if I look to the left, there's the home of Catherine of Siena. The Dominican nuns from my grade school days would be so proud!

Our driver, Massimo can't get anywhere near the hotel and neither can a taxi. So we have to hoof it over to Massimo. We looked down at all that gear and up at the rain and then over to our doorman and asked, "How far?" He shrugs his shoulders and says, "1,000 meters, no more." I'm thinking that's about 10 football fields away. No biggie. And our doorman has graciously offered to help us.

Off we go along some of the narrower cobblestone roads of Rome and along part of the marathon route, which reminded me a lot of the Broad Street Run in Philly with people lined up along the route, race volunteers, and people selling their wares along the route.

"It was the walk that never ended," said photographer Jason Ryan who was lugging the heaviest gear.

So about a mile and a half later, we did find our Massimo and headed off to do a couple of interviews with priests who are working at the Pontifical College of North America, which is an American seminary. Father Gregory Fairbanks and Msgr. James Checchio are both from our area -- Philly and South Jersey. (You'll hear more from them during our Monday morning newscasts). Both remember vividly going to see Pope John Paul II when he came to Philly in 1979 and they are excited that signs indicate Pope Francis will visit next year during the 2015 World Meeting of Families.

From the seminary, we rushed over to St. Peter's Square (although I use the word "rush" loosely here in Rome!) We could tell by the ringing of bells that we would be arriving just a bit late for the Sunday Angelus that Pope Francis gives. When he is home, the pope appears twice a week for the public -- during his General Audience on Wednesdays and his Sunday Angelus. The Sunday blessing only lasts about 15 minutes. We walked up to the back of the square which was filled with tens of thousands of people. And behind the square where we were, nuns and bystanders filled just about every stair step and sidewalk. When the Papa Francesco finished his prayer, people clapped!

We all took pictures of Pope Francis, who was so far away there was no way to even see the emotion on his face as he spoke. That made me think again about the Philly delegates who will get to see him face to face in a few days. Tomorrow the Philly delegation arrives here. We'll follow them as they meet and plan for the 2015 World Meeting of Families and get ready for that big moment with Papa Francesco. #NBC10Pope

Ciao!