Missed Tuesday's community forum? Watch it in the video embedded above.
---
White House National Drug Control Policy Director Michael Botticelli spoke on a panel at Philadelphia's National Constitution Center as part of a community forum hosted by NBC10.
The event, "Combating the Heroin Epidemic: A Forum for Change," was the culmination of six months of investigative reporting by NBC10 reporters Vince Lattanzio, Denise Nakano and Morgan Zalot in Generation Addicted, an in-depth and up-close look at the heroin epidemic in the Delaware Valley and beyond.
Botticelli was joined on the panel by Patty DiRenzo, a South Jersey mother who lost her son, Sal, to a heroin overdose in 2010 and has since joined the Camden County Heroin Task Force; Dr. Arthur Evans, the commissioner of Philadelphia's Department of Behavioral Health and Intellectual Disability Services; Fred Harran, Bensalem Township's Public Safety Director; NBC10 reporter Vince Lattanzio, who worked on Generation Addicted; and Devin Reaves, a clinical outreach coordinator with Life of Purpose Treatment who also runs Brotherly Love House, a recovery house for young men in Philadelphia. Many of the panelists appeared in Generation Addicted.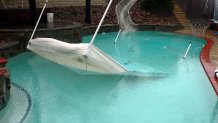 Botticelli, who is himself in recovery for nearly four decades from alcohol dependence, called the panel an "incredibly important" event to continue the conversation he's been having at town halls across the country. The panel was the first event of its kind in Pennsylvania.
Local
Breaking news and the stories that matter to your neighborhood.
"I've been in recovery for a very, very long time, and I've been doing this work for a very long time, but I watched this incredible reporting, and I think all of us can't help but be moved -- be moved by the tragedy of this epidemic, but also be moved by the hope of this epidemic and the solutions that we have here," Botticelli said at the start of the panel. "And that's why we're here today. Because we are not powerless in this epidemic, and our response, our ability to work together at the federal, state and local level, our work and our response to come together as community members, public health, public safety is where our solutions lie."
President Obama has made fighting the heroin epidemic a cornerstone of his drug policy and recently proposed an additional $1.1 billion in funding for addiction treatment. Botticelli said that proposal would be the federal government's largest investment ever in addiction treatment.
Panelists took questions from NBC10 journalists, viewers who shared them via social media and the audience. The discussion centered largely on improving access to treatment and getting people the right help at the right time, removing the stigma around drug addiction and finding new ways for all stakeholders -- federally, locally and in the community -- to work together to combat the problem.
Evans, of Philadelphia's Department of Behavioral Health and Intellectual Disability Services, said now is a pivotal point for the heroin epidemic.
"This epidemic, as bad as it is, gives us an opportunity, because for the first time that I can remember in my career, that we have a lot of people who are paying attention to this and for the first time we're hearing people talk about this issue in the right way," he said. "I think we have to seize the moment and use this opportunity to really push forward for a set of policies [for] helping people who are addicted."
Harran, whose department recently started a program that allows people in need of addiction treatment to use the police department as a resource to get help, said he saw overdoses increase dramatically in Bensalem and realized the old way of dealing with drugs wasn't working. He garnered enthusiastic applause from the crowd when he stressed that rehabilitation doctors and treatment experts -- not insurance companies -- should decide what kinds and lengths of treatment people need.
In addressing the stigma around drug addiction, which all panelists agreed prevents people from getting treatment, Botticelli said making it personal and putting a face on addiction is paramount.
"Addiction has been shrouded in silence and secrecy," Botticelli said. "But I think we have a revolution now."
Also of chief importance, Botticelli said, is cultivating communities that support recovery.
Both Reaves and Evans discussed their personal experiences fighting stigma in Philadelphia -- Reaves when he was working to open his recovery house in East Germantown and Evans when opening methadone clinics in the city.
"We have to deal with the issue of 'not in my backyard,'" Evans said, adding that an estimated 90 percent of people in need of treatment aren't receiving it. "We need to be open to all pathways. Many get into recovery in nontraditional ways."
Panelists also discussed the major role that prescription painkillers have played in advancing the heroin epidemic, and ways to better educate doctors and monitor prescribing.
"We are 10 years into this epidemic, and it's not unreasonable to ask [physicians] to take four hours of education," Botticelli said, drawing applause.
Pre-event speakers included Gary Tennis, secretary of the Pennsylvania Department of Drug and Alcohol Programs, Dr. Rachel Levine, physician general for the Pennsylvania Department of Health, the Honorable Zane David Memeger, U.S. Attorney for the Eastern District of Pennsylvania, Dr. Brian Work, physician at the Hospital of the University of Pennsylvania and Prevention Point Philadelphia, and Thomas Cain, the President of Mirmont Treatment Center, which sponsored Generation Addicted.
Jason Snyder, the policy and communications director for Pennsylvania's Department of Drug and Alcohol Programs, shared his own story of his family's battle with addiction. Snyder said he and two of his brothers all struggled with the disease, and that both his brothers ultimately lost their lives to it. Snyder has been sober since 2011.
"It's surreal to be able to do the things I'm doing today given where I and my family were in our darkest days," Snyder said after the panel. "I could never imagine this as I watched my brothers spiral to their deaths and dealt with my own addiction. It's an honor, it's surreal and, at times, emotional."
Tuesday's full community forum is available in its entirety in the video embedded above. Viewers are encouraged to continue sharing their own stories and experiences with addiction via the NBC10 app and on social media using the hashtag #AddictionIs.
---
Watch the half-hour Generation Addicted special here and view the digital presentation here.