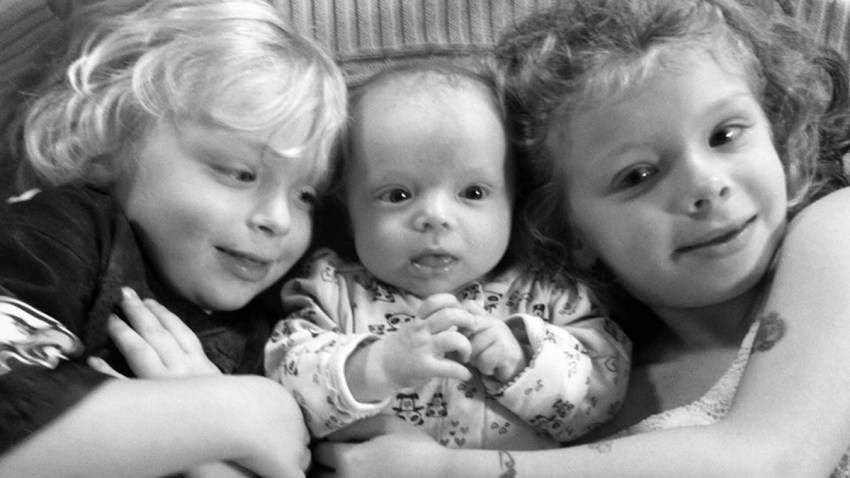 Willow Short lived as a "warrior from birth." Her older brother, Mark Jr., charmed people with a "contagious smile" and her older sister, Liana, devoured books as an "avid reader."
That's how the three children found dead along with their mother and father in an apparent murder-suicide at the family's Berks County home this weekend are described in heartbreaking obituaries published Wednesday memorializing them and their mother, 33-year-old Megan Short.
"She was witty, sassy loved school, art, dressing up, parties, Barbies, princesses and playing tricks on her family," the obituary says of Liana, 8, the oldest of the three siblings. Of Mark Jr., named for his father, it reads, "MJ's sweetness didn't overshadow his roughness. He approved of hugs, but kisses were out."
Local
Breaking news and the stories that matter to your neighborhood.
And for little Willow, who in her two years alive already survived a life-threatening congenital heart defect that required a heart transplant when she was days old, the remembrance reads: "Her second home for the first year was [Children's Hospital of Philadelphia], where she became an expert at putting on EKG stickers and other medical procedures. Yet, she loved life and was the happiest child ever.
"She was funny, loved Donald Duck, Minnie Mouse, dancing, taking walks, pulling all the tissues out of a box, opening the refrigerator every few minutes and opening the pantry," the obituary continues.
Megan Short's obituary described her as an "awesome mom" who "put her babies above all."
"She was sweet, caring, empathetic, forgiving, giving, accepting, helpful, real, strong, honest, an advocate for organ donation, intelligent and beautiful," the memorial reads.
As funerals for the children and their mother, 33-year-old Megan Short, were set Wednesday, the Berks County District Attorney's Office announced that officials plan to hold a news conference Monday afternoon to provide more details on the investigation into the family's tragic deaths.
Arrangements for Mark Short, 40, the husband and father, have not been announced.
Days after the parents and children were discovered dead of gunshot wounds in the living room of the family's stately Sinking Spring home, investigators have still not said which parent they believe pulled the trigger. There remain more questions than answers about what went horribly wrong.
NBC10 Investigator George Spencer delved into records in Berks County in search of any evidence that proved claims of marital issues, Megan Short's plans to leave due to alleged emotional abuse by her husband or "domestic issues" described by police in the wake of the family's deaths. But a records search in Reading turned up no protection-from-abuse orders and no filings for divorce on behalf of either the husband or wife.
Megan Short's friends and relatives of Mark Short have said that Megan expressed plans to leave her husband on social media, and alleged abuse in the home. Police said in the days after the tragic apparent murder-suicide, which also left the couple's children, 2-year-old Willow, 5-year-old Mark Jr. and 8-year-old Liana, dead, that the murder-suicide appeared to be a "domestic incident" gone terribly wrong between . But they never provided any additional details on what the couple's "domestic issues" were or whether police had a history of responding to calls at their Sinking Spring residence.
Whatever tensions in the Short home existed, they apparently boiled over sometime over the weekend. One of Megan Short's relatives contacted police in Sinking Spring and asked them to pay a visit Saturday to the couple's stately stone-and-siding home on Winding Brook Drive after she failed to show up to a planned lunch.
That's when police made the harrowing discovery in the home's living room: Both parents, all three children and the family dog all lay dead of gunshot wounds. Police have said a handgun was found next to one of the adults, but they haven't said yet which adult they believe did the shooting. They did, however, say they located what appeared to be a handwritten murder-suicide note somewhere in the home.
In another unusual twist, authorities ordered an autopsy to be performed only on Mark Short's body. They have not yet revealed any results of that autopsy.
In the last two years, the Shorts struggled with serious illness in their youngest child, Willow, who was born with a congenital heart defect. She underwent a heart transplant when she was just days old and needed intensive follow-up treatment, which has been chronicled in both the Reading Eagle and the New York Times. Megan Short also wrote recently of her own struggles with post-traumatic stress disorder caused by grappling with her daughter's illness on the Philly at Heart blog.
Mark Short's relatives told NBC10 earlier this week that Megan Short had been planning to leave him and file for divorce. They described Mark Short as a family man who was desperately trying to keep his family together -- although Megan Short's claims of abuse, shared with the Reading Eagle by her friends, told a different story.
"Mark was really trying to make it work, and he took them to Disney World in February to try and bond the family together," Eleanor Short, Mark Short's aunt, said. "Evidently, it didn't work, because she still wanted to get out of the marriage."
NBC10 has reached out to Megan Short's relatives and friends, but has not received responses.
Funerals for the children and mother will be held for friends and relatives at Givnish Funeral Home on Academy Road in Northeast Philadelphia Thursday and Friday.
In lieu of flowers, the obituaries ask for donations to Gift of Life Family House or the Children's Hospital of Philadelphia's Cardiac Center.
Authorities in Berks County said until Monday's news conference, no more information about the tragic murder-suicide will be made public.
"There will be no further updates until that time, so that we may focus all of our efforts on bringing closure to this investigation," the office wrote in a statement.
---
If you or someone you know is considering suicide, contact the National Suicide Prevention Lifeline at 1-800-273-8255 or visit the American Foundation for Suicide Prevention.