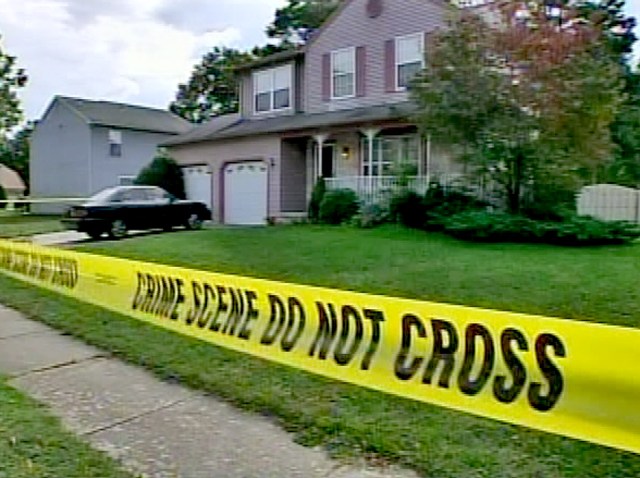 The Shires sounds like a peaceful-enough place to live -- tall trees, green lawns and single-family homes. But those actually living in this Egg Harbor Township, N.J. community may be questioning where they've chosen to live. That's because five of their neighbors were murdered in the past three years -- the latest incident happening early Wednesday morning.
"What now," lamented resident Sandra Avellino as she stood in front of her neighbor Maryjane Buri-Mulder's home. The woman and her 21-year old daughter Paula Mulder were found shot to death in separate bedrooms of their Scarborough Drive home, according to Atlantic County prosecutors. They believe the women were shot around 3 a.m., but would not elaborate as to who found the bodies.
Murder and death is becoming a recurring theme for the neighborhood. In April 2006, a woman was gunned down in her driveway -- just steps from Wednesday's double shooting -- as her eight-year old son watched. In March, Patrice Clemente -- another Shire homeowner -- was shot to death by her estranged husband as she worked at a Mays Landing veterinarian clinic.
Local
Breaking news and the stories that matter to your neighborhood.
And, Longtime Taj Mahal casino manager Ray Kot also lived in the development. He was murdered in May after a disgruntled gambler accused the casino of cheating him out of winnings.
"It's unbelievable. I mean, this is a nice neighborhood," said Avellio.
While none of the murders were connected, residents are certainly growing uneasy. I mean, this is starting to happen a lot more often," said Joanne Allen. "This is really just really sad.
Late Wednesday, Paula Mulder's boyfriend Nicholas Nigro III was charged with the women's murder. Prosecutors say he's the only suspect and are calling the murders a domestic disturbance.

Nigro, 25, is being held on $2 million cash bail.