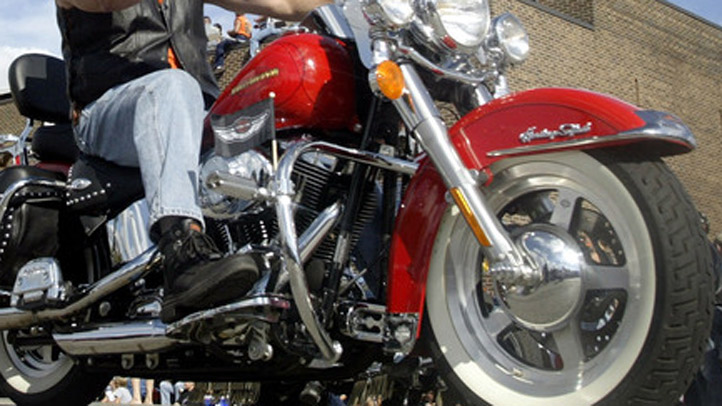 Delaware State Troopers are searching for two drivers who allegedly fled the scene of a crash involving a motorcycle in New Castle, Delaware.
Investigators say it happened Saturday around 6:25 p.m. A 1999 Harley Davidson was traveling southbound on Airport Road north of Cawdor Lane while a 2007 Chrysler 300 was traveling right behind it. At the same time, a 2002 Ford Taurus was traveling northbound on Airport Road and approaching Cawdor Lane. Police say a red vehicle was traveling eastbound on Cawdor Lane when it failed to remain stopped at a posted stop sign.
The red vehicle entered the Airport Road intersection and attempted to make a left turn onto Airport Road when it crashed into the Ford Taurus, according to investigators. Police say the Harley Davidson attempted to avoid the crash but struck the Ford Taurus head on. The motorcycle rider, identified as Ralph Heaps, 52, of Wilmington, was ejected and propelled into the northbound lanes where he was struck by an unknown vehicle traveling behind the Ford Taurus. Police say the unknown vehicle then fled the scene. The red vehicle also fled the scene, according to investigators.
Local
Breaking news and the stories that matter to your neighborhood.
After the crash with the motorcycle, the Ford Taurus crossed the center line and collided head on with the Chrysler 300.
Heaps was taken to Christiana Hospital Trauma Center where he is currently in serious condition. Police also say he was wearing a helmet at the time of the crash. The driver of the Chrysler 300, who police identified as William Hunter of New Castle, was properly restrained and was not injured. Finally, the driver of the Ford Taurus, identified as Precious Somo Wowoah, 31, of Newark, was taken to Christiana Hospital Trauma Center and treated for minor injuries.
The roadway was closed for three hours while the crash scene was investigated and cleared.
Investigators suspect the first hit-and-run vehicle is a red Nissan Altima with front end damage. However, they have not yet released a description of the second alleged hit-and-run vehicle.
If you have any information on this incident, please call Troop 2 at 302-834-2620 or Delaware Crime Stoppers at 1-800-TIP-3333.