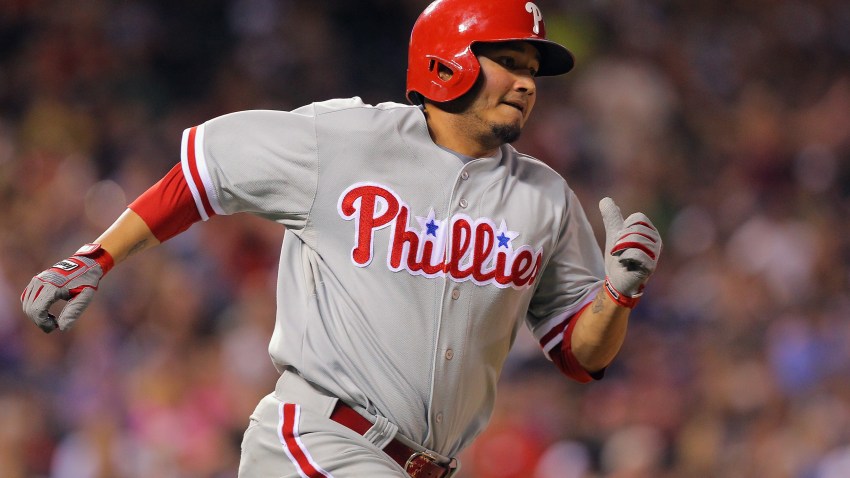 If you thought you looking at a Spring Training lineup when you watched the Phillies on Tuesday night, that's because it's not that far from the truth. A day after they expanded their roster as a way to let some of their minor leaguers showcase their talent at the big league level, the Phillies trotted out this lineup:

Cesar Hernandez, 2B
Freddy Galvis, SS
Kevin Frandsen, 1B
Carlos Ruiz, C
Darin Ruf, LF
Cody Asche. 3B
John Mayberry, RF
Michael Martinez, CF
Ethan Martin, P

Of the eight position players, only one (Ruiz) would be a bonafide starter on another Major League team right now. You might one day be able to say the same about Ruf and Asche, but the rest of the lineup would be hard pressed to crack the lineup of any team currently in contention.

Aside from Ruiz, Ruf, and Asche, you have young infielders who might have a role as super utility players (Hernandez, Galvis), a bench bat who is at best a platoon player (Frandsen), and a pair of players who somehow are still under the employ of a Major League team (Mayberry, Martinez).

To be fair to Sandberg, it's not like he has a ton of options. Domonic Brown (whose 27 homers exceed the total of Tuesday's starting outfield) is banged up, and shouldn't be risking further injury if he's not 100%. As far as Jimmy Rollins and Chase Utley are concerned, don't be surprised if the infield duo sits quite a bit more this month. Not only does Sandberg want to make sure his veterans aren't getting worn down needlessly, but it also allows him to see what Hernandez and Galvis can do up the middle, according to Ryan Lawrence of The Daily News.

To be honest, the youngsters are one of the only reasons to watch the Phillies at this point in the season. They have no shot to make the playoffs, so there is no reason to keep trotting out the same lineup night in and night out. We know what Utley and Rollins can do, but what about Cody Asche? Or Cesar Hernandez? Or Cameron Rupp?

As much as Ryne Sandberg is auditioning for the manager's job next season (one that he almost assuredly has already won), the same can be said for the younger players. Maybe Freddy Galvis won't be a starter on the Phillies next season, but he could prove to be a useful bench player with a strong September.

An ancillary benefit of playing the youngsters is the likelihood that the Phillies will, in fact, lose. I'm not one to root against the Phillies, but when a worse record means a better draft pick in 2014 – especially a protected pick in the top ten – there are worse things than losing.

The Phillies aren't likely to trot out this lineup on a nightly basis in September, but expect to see it more often than not, as Sandberg and company begin to prepare for next season.