A Pennsylvania school's decision to give two students unexcused absences after their Montgomery County father took them on a trip to Boston has drawn national attention.
Mike Rossi, 47, of Abington took his 9-year-old twins to Boston to watch him run in the Boston Marathon on April 20. During the three-day trip, Rossi says he took his children to several historical sites.
"My kids learned about the Boston Tea Party," Rossi said. "They are not going to learn about that in school for probably next year or later."
Despite Rossi believing the trip was educational, the Abington School District felt differently. Rossi says he received a letter from the principal of Rydal Elementary School, where his kids attend, saying the trip would count as one unexcused absence.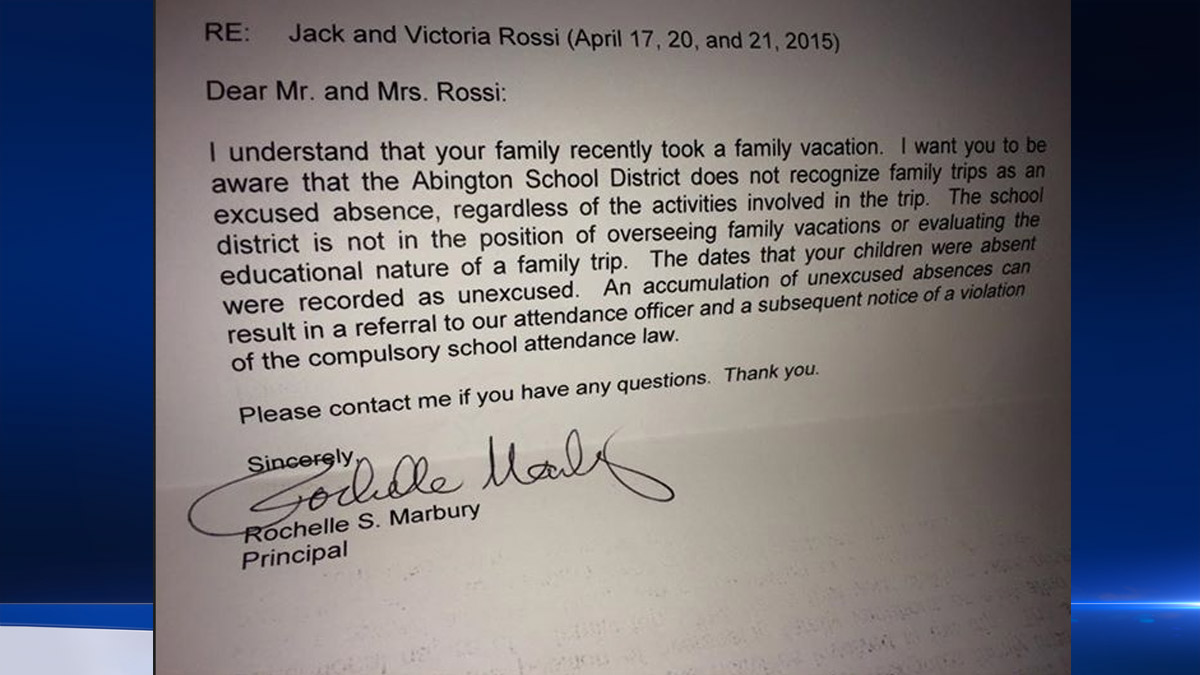 "To get a letter like that that was pretty accusatory and the language was pretty hostile it really made me a little angry," Rossi said.
School officials say it was the same form letter they send to all parents when children miss school for family trips as part of their policy.
"I was aware of the policy to an extent," Rossi said. "But the policy is not even clear. It's very vague."
Local
Breaking news and the stories that matter to your neighborhood.
Rossi wrote a response to the principal, defending the trip and its educational value. He later posted the principal's letter and his response on Facebook. The post went viral and as of Wednesday was shared by over 28,700 people.
Raymond McGarry, Esquire President of the Abington Board of School Directors, released a statement Tuesday addressing the controversy and defended the school's decision while also claiming he's received the same letter after taking his own kids on a trip.
"I have made that decision more than once for my own children, and would make it again if the right opportunity or circumstances presented themselves to me," McGarry wrote. "However, each time I made that decision, I knew what the school district's policy was and understood that I would receive a letter from the school district advising me that my children's absences were unexcused. I have in fact received such letters. Even as a board member. And it doesn't bother me one iota when I receive such a letter. I understand that the school district is doing its job."
Rossi says he met with school representatives Wednesday and was told that while there won't be changes to the policy they may make the language stronger so that all parents are fully aware of the rules.
Rossi also posted another message on Facebook calling the meeting constructive. He also insisted he didn't have a personal issue with the school, teachers or principal and urged his followers not to attack her or send her hate mail.
(function(d, s, id) { var js, fjs = d.getElementsByTagName(s)[0]; if (d.getElementById(id)) return; js = d.createElement(s); js.id = id; js.src = "//connect.facebook.net/en_US/sdk.js#xfbml=1&version=v2.3"; fjs.parentNode.insertBefore(js, fjs);}(document, 'script', 'facebook-jssdk'));