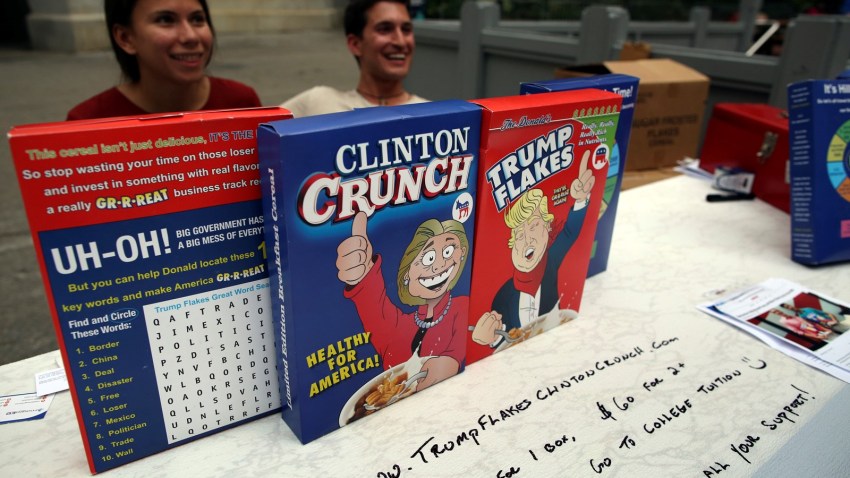 An influx of people in Philadelphia is helping bring in the money for merchandise vendors here for the DNC. As the days roll on, vendors have already made some serious cash after setting up shop around the city.
David Mullen, from Springfield, Illinois, traveled to Philadelphia to sell both Hillary and Bernie gear on the city streets. His three-person operation treks around the country selling buttons, t-shirts, and bags. They were also at the RNC in Ohio. Mullen set his table up along, what he called, 'Protester's Alley' along the Wells Fargo Center before the crowds began.
"Business is good! I think I sold about 80 shirts just yesterday… People who love their candidates want to wear them and it's something to remember the moment by," explains Mullen, who worked in a labor union for 25 years before becoming his own boss.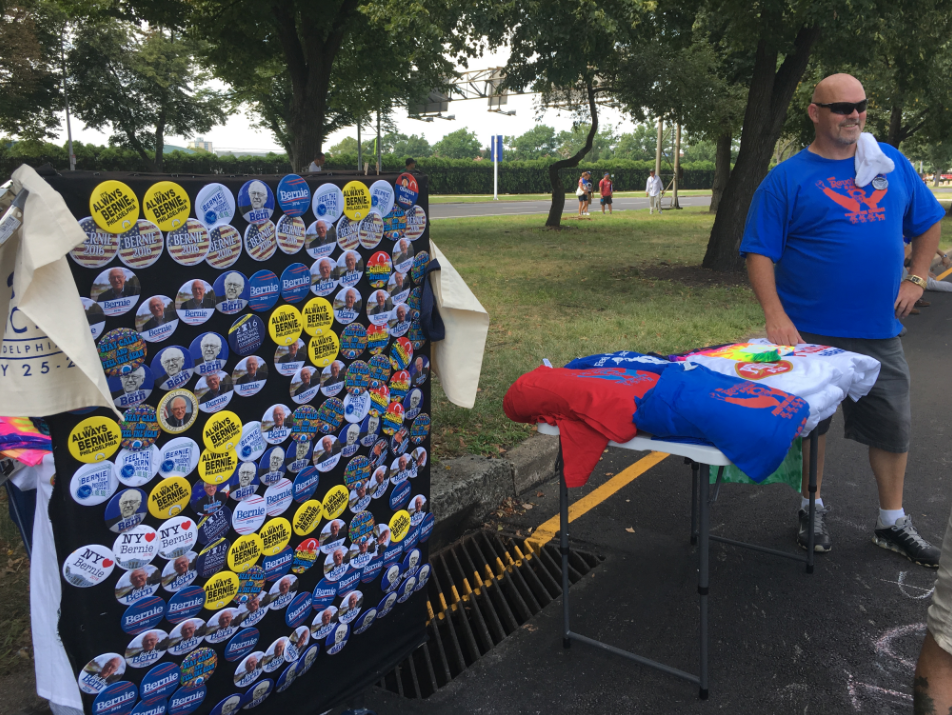 Mullen explains there is a big difference in attitudes at the DNC than the RNC. Personally, he says he felt 'weird' about selling Trump gear at the RNC because the messages can be downright brutal.
Local
Breaking news and the stories that matter to your neighborhood.
"They had shirts and buttons that just said really bad things, things you wouldn't see anywhere else and things that definitely would not fly here," he explains and mentions he might have done better business if he had been selling those things. "You don't see that type of stuff here, you don't see Hillary supporters making shirts saying mean things about Bernie or about Trump. "
Mullen's operation was based right by the Wells Fargo Center; and by the Convention Center, vendors are also seeing successful numbers.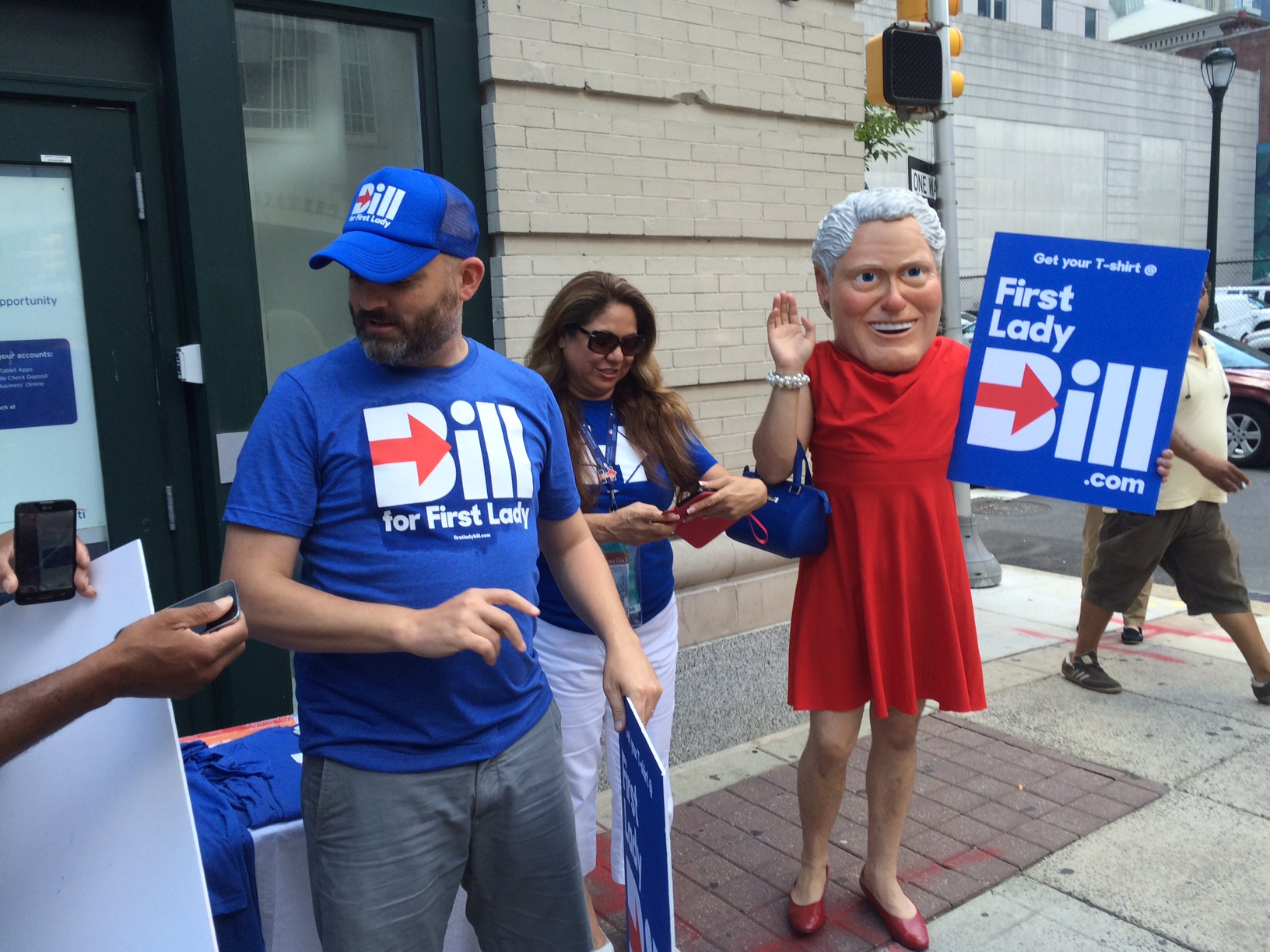 Luke Montgomery, from New York, is campaign manager of a political action committee called 'First Lady Bill.' On the corner of 13 and Arch Streets, he and his boyfriend Santiago Durazzo, who was dressed as Bill Clinton in drag, sold shirts for $20 sporting the slogan 'Bill for First Lady.' The group supports LGBT initiatives and every shirt sold helps to make a difference.
"We want to put the 'party' back into the Democratic Party," explains Montgomery, between purchases. Bill Clinton dressed in drag is a fan favorite and has helped sell "hundreds of t-shirts" since the beginning of the convention.
Visitors who might not be interested in a new closet item or button can also find vendors selling artwork created for the event. One artist, Mark G, from Wildwood, New Jersey, gave passersby on Arch Street near the convention center a chance to sign a large portrait he drew in black pen of Hillary Clinton.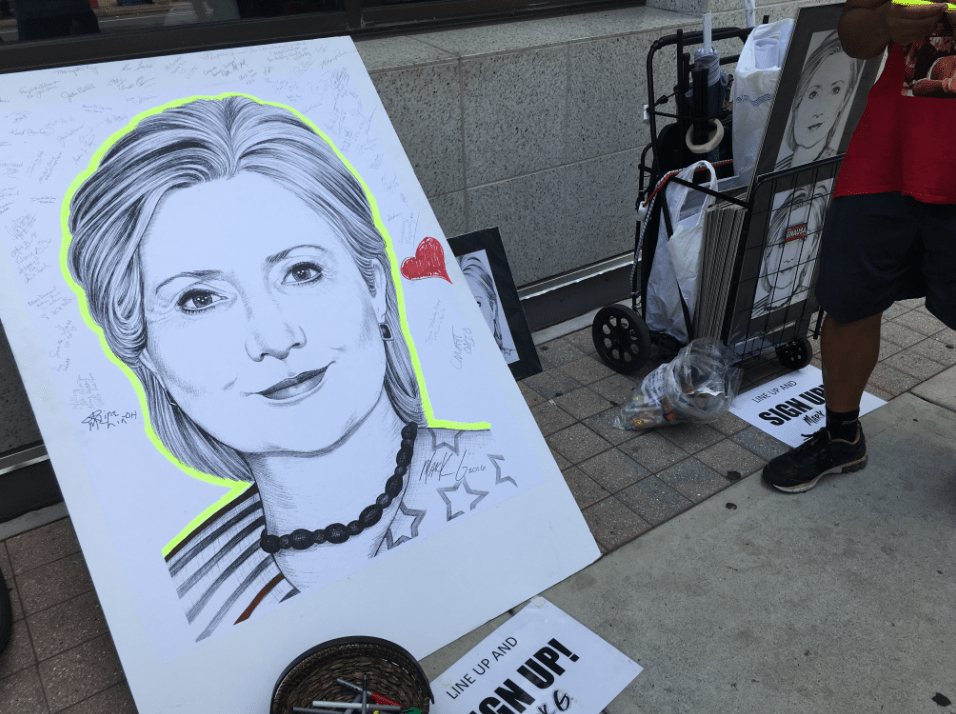 "I was in advertising for 30 years but I've been drawing my whole life, probably since 5 or 6," he explains while handing more pens out for people to sign the piece with and asking for donations, which many eager pedestrians were willing to give.