UPDATE: David Riley has been captured. New details here.
---
Have you seen him?
Officials are searching for a prisoner after police say he escaped custody from Cumberland County Department of Corrections officers Friday morning.
Around 10:30, David Riley escaped from a transport van near Cornwell Drive and Old Deerfield Pike in Upper Deerfield Township, state police said in a release.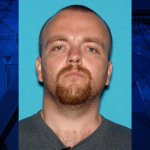 Suspected of robbery, police said Riley escaped on foot without handcuffs and should be considered armed and dangerous.
He was last seen wearing a white t-shirt and boxer shorts.
Anyone with information on Riley's whereabouts is asked to call New Jersey State Police Bridgeton Station at 856-451-0101.