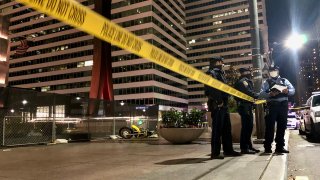 A 21-year-old man was shot in the face and torso near the Clothes Pin art installation across from City Hall in Philadelphia and died at a nearby hospital on Monday night, police said.
The victim was using a dirt bike at the time of the shooting and the bike could be seen on its side near the huge artwork at 15th and Market streets, according to a senior police official.
The gunman fired around 11 bullets from a car around 6:30 p.m., police said. Overbrook's Khaleaf Sistrunk was struck in the head and body. The 21-year-old died less than an hour later at the hospital.
Investigators did not immediately know if the gunman targeted the victim, whether it was road rage or another motive.
The investigation continued Tuesday as police search for clues.
Deadly shootings have surged in Philadelphia this year with 435 people killed as homicides are up about 39% year over year.
There are additional resources for people or communities that have endured gun violence in Philadelphia. Further information can be found here.