Police arrested a man accused of murdering a Delaware County woman in Upper Darby and then leaving her body in a trash bag in Philadelphia.
Kareem Davis-Duppins, 26, of Philadelphia, is charged with first-degree murder, abuse of corpse and other related offenses.
Investigators said Davis-Duppins met 25-year-old Sabrina Dubose, of Haverford Township, on the train in Philadelphia on May 22.
Davis-Duppins and Dubose were captured on surveillance video leaving the 69th Street Terminal and then walking to his apartment in Upper Darby where Davis-Duppins was a Super.
While at the apartment, Davis-Duppins and Dubose had a sexual encounter and then began arguing over money and drugs, according to the criminal complaint. Davis-Duppins then allegedly pushed Dubose, causing her to fall, hit her head on a radiator and lose consciousness.
When Dubose woke up she began screaming that she had been raped, investigators said. Davis-Duppins then allegedly choked her to death.
Davis-Duppins initially stored Dubose's body in the elevator shaft of the building before moving her in a large cardboard box with duct tape, investigators said. He then later left her body in a trash bag on the 5700 block of Musgrave Street in Philadelphia, according to the criminal complaint.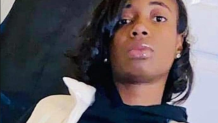 Dubose was reported missing on May 22. Through informants, witnesses and surveillance video, investigators identified Davis-Duppins as the suspect, police said. Davis-Duppins was taken into custody Tuesday. He allegedly admitted that he murdered Dubose and told police where he left her body.
Local
Breaking news and the stories that matter to your neighborhood.
Davis-Duppins was officially charged Wednesday after investigators identified the body as Dubose.