Officers arrested a suspect in a shoplifting that led to a deadly police-involved shooting at a shopping center in Deptford Township, New Jersey.
Raoul Gadson, 43, was captured by officers with the Gloucester County Prosecutor's Office Fugitive Investigation Unit in the Germantown section of Philadelphia Wednesday. He will remain in the custody of the Philadelphia Police Department until he's extradited.
Gadson is one of three people who police say were involved in a shoplifting at the Marshalls department store in the Deptford Crossing shopping center on 1800 Clements Bridge Road Saturday afternoon.
Police were called to the scene and also alerted that one of the suspects was wanted in connection to a prior homicide.

When police arrived they spotted Gadson as well as LaShanda Anderson, 36, and Chanel Barnes, 27, — all of Philadelphia, according to investigators.
Police say Gadson was resisting with loss prevention agents from the store. As police approached, Gadson allegedly fled the scene on foot while Anderson and Barnes entered a rented Nissan Armada.
Police say they commanded Anderson to stop but she accelerated toward them. One of the officers, a patrol captain and 27-year veteran, was struck by the open driver-side door, police said. Anderson then allegedly tried to deliberately run over a second officer, a sergeant. The sergeant, a 17-year veteran, took out a gun and fired three shots, striking Anderson twice.
Local
Breaking news and the stories that matter to your neighborhood.
The vehicle then veered, narrowly missing the sergeant, continued across the parking lot and onto the access road before finally coming to a stop.
Anderson was pronounced dead at the scene. Officials say she died from multiple gunshot wounds.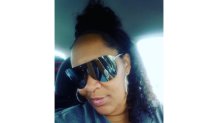 Barnes was taken into custody and charged with shoplifting. Gadson escaped and remained at large until he was finally located and captured Wednesday, officials said. Once he's returned to New Jersey he's scheduled to appear in Superior Court, Woodbury on assault and robbery charges.

The sergeant was taken to the hospital where he was treated and released. He'll be placed on administrative leave pending an investigation of the shooting. The patrol captain was not seriously injured.