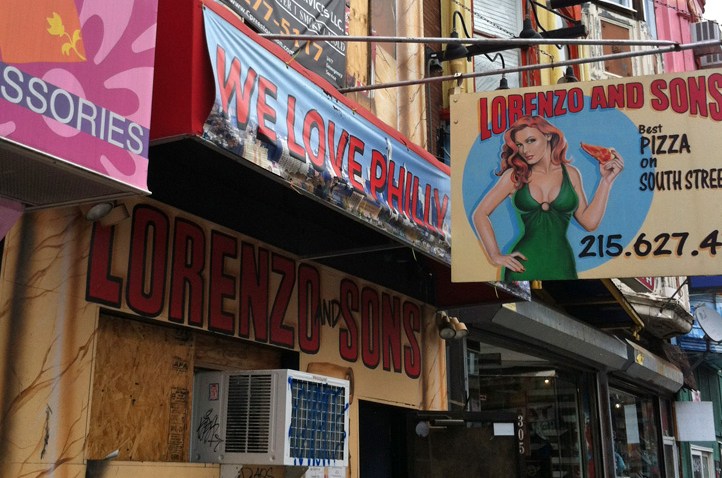 The return of Lorenzo's pizza is so close fans can almost taste it.
Lorenzo's and Sons, the iconic South Street pizza spot that was gutted by fire last summer, is set to hold an official Grand Re-Opening ceremony with WMMR's Preston and Steve on Saturday May 3 with 50 percent of proceeds going to Philabundence.
But, owner Giuseppe Pulizzi tells NBC10 that they will reopen the doors at 305 South Street even earlier. Pulizzi says he hopes to be serving up mega slices by April 29 starting at 11 a.m.
Local
Breaking news and the stories that matter to your neighborhood.
"I'm not going to able to breath," Pulizzi says.
The no nonsense owner won't be able to catch his breath in the coming week or so because there are still many things to do to the remodeled store including painting, installing ovens and more before the slices can be dished out to hungry patrons.
He hopes to install the ovens over the weekend and get them fired up to get the pizza back to standard.
"If it don't taste right I won't sell it," Pulizzi said.
The taste testers will be family and friends including his own parents who are set to fly in from Florida for the reopening, he said.
A month ago, Pulizzi, 39, described his plans to modernize the place -- something already evident by the new logo and plans for a new, modern façade. He found a company that normally wraps casinos to install a large wrap mural on the front that will replace the old wood façade that featured his father, the founder of Lorenzo's.
He also plans on lighting up South Street with a new LED lights display that will hopefully draw customers during the late-night hours.
Lorenzo's has been out of service for nearly 10 months. Pulizzi says he, his staff and his dog were lucky to get out alive when flames broke out inside the restaurant before opening June 27.
Since then there has been a void in late-night cuisine in Philly. The Lorenzo's Pizza experience has been a staple to more than a generation of Philadelphians. Pulizzi says the recipe dates back to his father in 1970 and they have been on South Street since 1988. But the pizza is only part of the Lorenzo's experience as its late hours (until 3 a.m. Sunday through Thursday and until 4 a.m. on Friday and Saturday nights), lack of seating and tight lines became part of the allure.
Pulizzi had planned on being open in early April but said that some issues getting specialized equipment and the task of redoing the entire three-story building (plus basement) all at once pushed the re-opening back.
A lot decisions have already been made except for one..
Pulizzi tells NBC10.com that he is meeting Saturday with a guy to discuss possible toppings including spinach, steak and more. But those toppings will come with a catch -- let's just call it Toppings Tuesday. For the first time the pizza place that used to pride itself on refusing to top slices will do so on Tuesdays only from 11 a.m. to 11:59 p.m.
Why the strict cut off?
"It's like a bar, if it's 2:01 you aren't getting served," Pulizzi said.
As for the taste, Pulizzi has argued all along that the mega, cheesy slices will taste as good as ever despite changing his cooking equipment.
"The myth is that if you change the pizza stones that the pizza's going to be different…I actually believed it for the longest time until I got rid of my oven… you couldn't even tell the difference."
Pulizzi has no plans on being anything but the best, in his opinion, on South Street.
"We are, we were, we're going to be again."