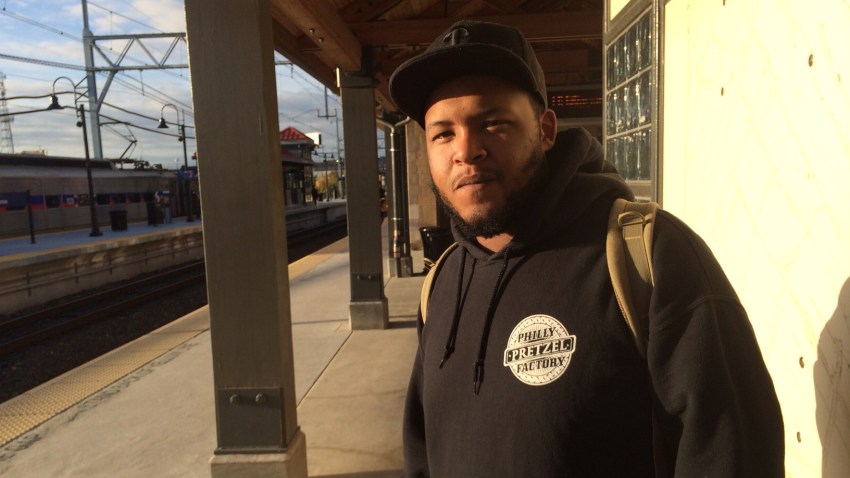 Linvel McKey is a kind little brother.
Even though he didn't have to be at work until noon Tuesday, there he was at 8 am standing on the platform at Wayne Junction station with his brother.
The two were waiting for a train to take them into Center City after they walked 30 minutes from their house in North Philadelphia. McKey, 22, who works at the Pretzel Factory at 16th and Sansom streets, said his brother, James Brown, 29, had just moved to Philly from Washington D.C.
Local
Breaking news and the stories that matter to your neighborhood.
"He's not familiar with the Regional Rail," McKey said. "We normally take the Broad Street line at Erie (Avenue). It's a five minute walk from our house."
What did they do on their suddenly long walk this morning?
"We talked. It was as you'd expect from 30 minutes," said Brown, who works construction near 19th and Market streets. [[399426941, C]]
The brothers' nonchalance about the inconvenience of a strike by SEPTA's City Transit workers prevailed at Wayne Junction on the first morning rush hour, even as packed trains from the suburbs overflowed with riders as they passed through the city station.
Roughly 400,000 commuters take city buses, trolleys and subways each day in Philadelphia. Thousands of those riders were expected to use Regional Rail as an alternate mode of transportation for the duration of the strike.
The strike took effect at 12:01 a.m. Tuesday. Negotiators for the transit agency and the Transport Workers Union Local 234 said they didn't know how long the work stoppage would last. [[399438801, C]]
Until it ends, Regional Rail trains will likely be more crowded than usual -- and late. The rail system, which has conductors and engineers who are members of a different union, was operating about 30 minutes late across the board Tuesday morning. Maintenance workers were already setting up cordons to help passengers form lines during the evening rush hour.[[399495241, C]]
SEPTA's administrative staff and managers, in the meantime, are working "ambassador" shifts on platforms throughout the Regional Rail system. Chevelle Hutchins, who works in Human Resources at SEPTA headquarters in Center City, woke up at 4:30 am so she could be on the platform at Wayne Junction by 5:30. [[399493481, C]]
"I enjoy getting out here and talking to the public, meeting all the different people," she said.
She said the goal is to keep people informed and as happy as possible under the circumstances of the strike. She hoped it would be over as soon as possible. [[399492941, C]]
"People have handled themselves well this morning, considering," Hutchins said. "But trains are really crowded and some people were standing out here for one or two hours this morning."