Does it seem like the rain just won't stop? Well, you're right. It hasn't. And it won't—for a while at least. Periods of rain (and at times, thunderstorms) have passed over the region since last Thursday.
The NBC10 First Alert Weather Team is forecasting rain for the next five days (through Monday, May 21). That'll make it a 12-day rain stretch!
Between Thursday, May 10, and Tuesday, May 15, Philadelphia officially picked up 2.53" of rain. Allentown saw 1.35". Wilmington picked up 3.03". The Atlantic City (Airport) total topped 2.86".
For the year, Philadelphia is well above average for precipitation. The year-to-date total sits at 20.08". The average? Only 14.74"! We're running 5.34" wetter than normal. Last year was less damp, running right along the average at this point in the year.
In the following days, we're stuck under a very damp pattern. A frontal boundary will align along the southern edge of our region. Although it may wobble some around our area, it continues to sit atop the Delaware Valley. The result? Tropical moisture will ride the boundary, all the way to us! This brings periods of light, steady and even heavy rain. Thunderstorms are less likely until the weekend.
How much more rain are we expecting? The region will see between 3-5" more by next Monday. Isolated areas may see up to 7 more inches!
Local
Breaking news and the stories that matter to your neighborhood.
There are a few concerns with this type of prolonged rain event.
The main threat? Flooding.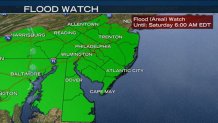 A Flood Watch has been issued through the entire region from Thursday at 6 p.m. through Saturday at 6 a.m. Periods of heavy rain are likely during this time period.
Low-laying areas and those prone to flooding could see ponding. Creek swelling is possible through the weekend, and this may lead to river swelling as well. Many river gauges throughout the tri-state area indicate reaching minor flood stage could occur, although not guaranteed.
Flash flooding might become an issue as well, when periods of heavier rain or thunderstorms approach. With all the rain that has already fallen, the ground is saturated. So, additional rain, especially when heavy, cannot absorb into the ground.
Another issue? Crops or plants sensitive to too much rain may not have a chance to dry out—leaving puddles atop of them for days. Plus, trees that were weakened from this Springs' Nor'Easters (or even semi-rotted old trees) can more easily pull out of the soggy soil.
One silver-lining? Allergy suffers should be noticing the huge drop in pollen count. The constant rain has and will continue to wash out the air.
When does the region finally dry out? It looks like Tuesday, May 22, has the best chance of staying dry. Keep up-to-date on this forecast by following us on social media, online and on air.